Flower Travellin' Band & Knyfe Hyts @ Knitting Factory – pics
photos by Lori Baily, words by Andrew Frisicano
Flower Travellin' Band, the Japanese psychedelic rock band with nearly 40 years of history, played its first-ever US show Friday (3/13) at Knitting Factory (with Knyfe Hyts opening).
"Friday night I had the pleasure of heading over to The Knitting Factory (or what's left of it) and seeing Japan's Flower Travellin' Band play their very first US show. The killer opening set by Knyfe Hyts (Oneida, Ex-Models) lent the room a sort of dark, trippy tension that I rarely see anymore outside of metal shows. By the time FTB took the stage, I was ready to have my mind blown.

You see, FTB has been playing since the late '60's, and though they were set to open for The Rolling Stones during their 1973 tour, visa issues prevented them from entering the United Sates until now. Their particular brand of psychedelic rock is delightfully heavy and strange, emphasized by the fact that they have abandoned the electric guitar in favor of the hugely complex, wide-necked sitarla. Vocalist Akira "Joe" Yamanaka's voice is jarring and alien, but somehow suits the band's style quite well. I don't often think of this sound as having thrived across the world in Japan, but FTB's extensive discography says otherwise." [JDub Records blog]
The band's second-ever US show was Saturday (3/14) at the Studio @ Webster Hall - tonight Flower Travellin' Band plays Washington, DC, before heading to SXSW for a March 19th Knitting Factory showcase at Smokin' Music.
More pics from the Knitting Factory show below...

Knife Hyts...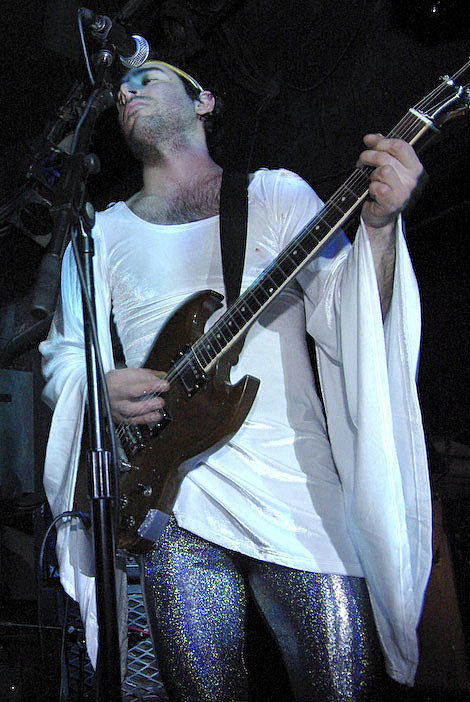 Flower Travellin' Band...