Flying Lotus played Terminal 5 w/ Thundercat and Hannibal Buress (pics), playing MHOW tonight
Gregory R. Cristman
photos by Greg Cristman
Flying Lotus / Thundercat @ T5 - 10/15/14

Flying Lotus brought his tour in support of his jazzy new LP You're Dead to Terminal 5 last night (10/15) for his first of two NYC shows here this week. It was packed, the visuals were stunning, the sound was extremely loud, and you could feel the bass physically shaking you. Anybody in the front last night must still be vibrating and have ringing ears.
FlyLo's tourmate/collaborator Thundercat opened with his maniacal bass playing and sweet vocals. There was also a surprise opening set from comedian Hannibal Buress (who will help celebrate Knitting Factory's 5th year in Brooklyn soon), and DJ Peabody kept the crowd warmed up between sets. Pictures of the whole show are in this post.
FlyLo and Thundercat hit MHOW tonight (10/16), which is sold out. Will they have another surprise guest tonight?
More pictures from T5 below...

---
DJ Peabody
Hannibal Buress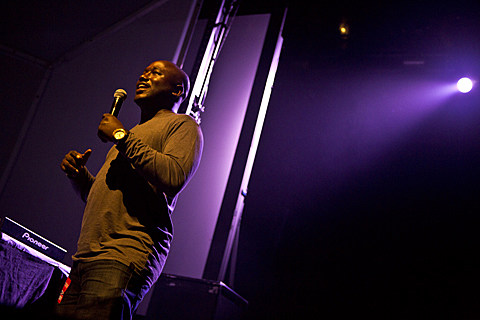 Thundercat
DJ Peabody
Flying Lotus