Fool's Gold Day Off coming (free outdoor NYC show w/ Juicy J & more), Cubic Zirconia also opening for SBTRKT
Fool's Gold Day Off is returning to the City Winery Backyard on September 5 (aka Labor Day) with Juicy J, Danny Brown, AraabMUZIK, Just Blaze, Brothers Macklovitch (A-Trak & Dave1), Cubic Zirconia, and more. The all ages event runs from 2-8 PM and admission is free.
Juicy J aka 1/2 of Three 6 Mafia also has other dates coming up, all of which are listed below.
As previously mentioned, AraabMUZIK also tours with and opens for SBTRKT at Bowery Ballroom (10/31). SBTRKT's show the next night (11/1) at MHOW in Brooklyn didn't have an opener, but now it does and it's Cubic Zirconia. Tickets for both of those shows are still on sale.
A show flier and a video from last year's Day Off and stuff, below...

--
Cubic Zirconia- Josephine Official VIdeo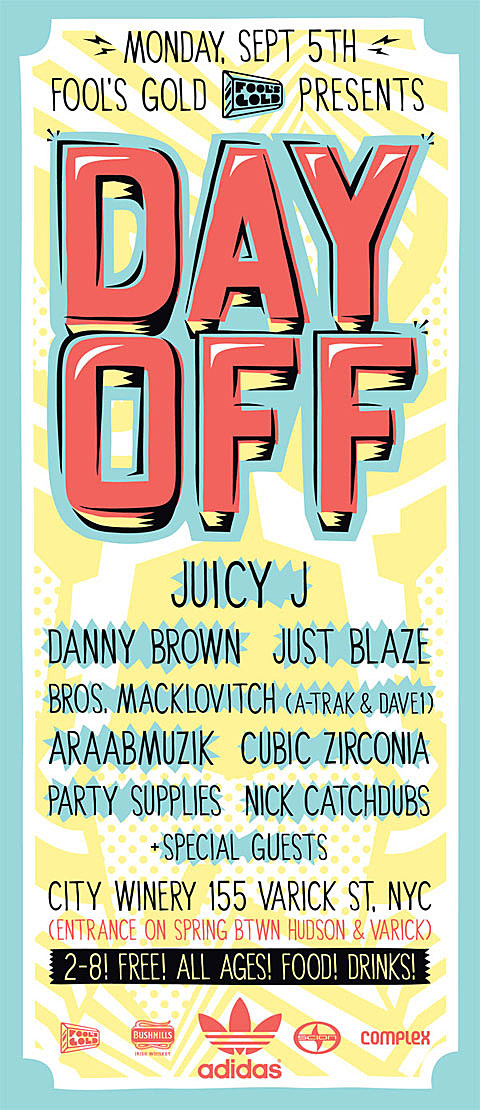 Monday, September 5th

FOOL'S GOLD DAY OFF

Juicy J
Danny Brown
Just Blaze
Brothers Macklovitch (A-Trak & Dave1)
Araabmuzik
Cubic Zirconia
Party Supplies
Nick Catchdubs
+ Special Guests

City Winery Backyard
155 Varick St
(Entrance on Spring btwn Hudson & Varick)
2-8pm / All ages
Free!

Get there early, attendance is based on capacity.
---
Three 6 Mafia -- 2011 Tour Dates
Thursday August 25th,Steger IL @Another Hole in the Wall
Friday August 26th, Montreal Canada: @Telus Theater
Saturday August 27th Charleston SC:
Saturday September 3rd Richmond,VA (Juicy J only):
Monday, September 5th, New York, NY (JUicy J only) @ Fool's Gold Day Off
Saturday September 8th Las Vegas,NV (DJ Paul only): @ Deja Vu
Friday September 30th,Las Vegas NV @ Palms Hotel Pool for Ditch Fridays
Friday October 14th,Murfreesboro,TN @ Gilligan's
Saturday October 15th, Houston,TX: @Stereo Live