'Former groupies' telling stories on Reddit; Alejandro Escovedo announces tour dates
Alejandro Escovedo at Clearwater Festival in 2009 (more by Chris La Putt)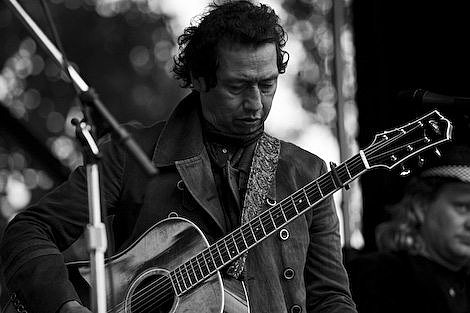 There's a popular forum on Reddit where "former groupies" are telling stories of their experiences with rock stars. The forum got hundreds of responses, including blurbs like this:

Not groupy but production manager here. Working Alejandro Escovedo concert a few years ago and there were 2 young teenage girls in attendance wearing home made shirts with his name all over it. During the solo acoustic opening act he invited the girls on stage because it was one of their birthdays. After he played a song they exited side stage and ran back to Alejandro's dressing room. When they barged in they saw him doing cocain. He yelled at them to leave and they spent the rest of the concert crying at the entrance waiting to get picked up.
Of course we don't know for sure if any of these stories are true, but at least in Alejandro's case, we know he has had an interesting life.
Speaking of Alejandro, he recently announced dates including three nights in NYC happening at City Winery on January 15, 17, and 18. On 1/15, he'll be joined by Joe Ely, on 1/17 he's playing an "acoustic evening with strings," and on 1/19 he'll be joined by his band The Sensitive Boys, who most of his other tour dates are with. Tickets to all three NYC shows are on sale now.
All tour dates are listed, along with some videos, below...

---
Alejandro Escovedo -- "Anchor"

Alejandro Escovdedo & The Sensitive Boys -- Live @ The Casbah

Alejandro Escovedo -- 2013/2014 Tour Dates
11/19/13 Garden CIty, Idaho The Visual Arts Collective*
11/20/13 Park City, Utah Park City Live*
11/22/13 Denver, Colorado The Soiled Dove Underground*
11/23/13 Taos, New Mexico KTAOS Solar Center*
12/06/13 Dallas, Texas Granada Theater*
12/13/13 Lockhart, Texas Chrisholm Trail Ballroom*
12/14/13 McAllen, Texas McAllen Civic Center Auditorium*
12/31/13 Evanston, Illinois SPACE*
01/15/14 New York, NY City Winery**
01/16/14 Bay Shore, NY Boulton Center**
01/17/14 New York, NY City Winery
01/18/14 New York, NY City Winery*
* = w/The Sensitive Boys
**= w/Joe Ely
--