Foxygen, Amen Dunes, LODRO & Prince Rupert's Drops played first BV-curated RBSS show at the Knit (pics)
Foxygen / LODRO @ Knitting Factory 5/13/2013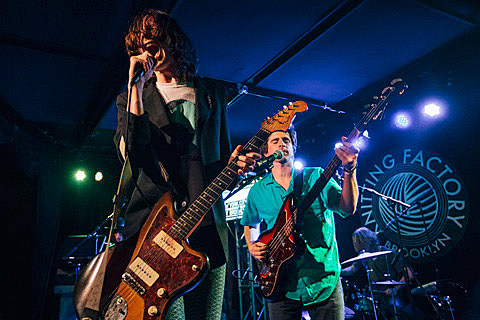 "I ate a CD once," admitted Foxygen frontman Sam France Monday night onstage to a full room at Knitting Factory. It was one of many probable falsehoods he told the crowd, but sometimes it's funny cause it's untrue. This was the first of three Foxygen shows in NYC this week and a Red Bull Sound Select show that BrooklynVegan curated (that's us). It was also the cheapest at only $3.00 and with four bands, a DJ and a comedian host on the bill.
France is a very charismatic frontman (my friend remarked "he's got a Jarvis Cocker thing going on") and even if you aren't totally in love with their album, with its many nods to late '60s rock, it's hard to deny Foxygen put on a very entertaining show, messing with the Red Bull sign included.
We chose the other three bands on the bill to be in tune with the pysch side of Foxygen's music. Openers Prince Rupert's Drops are in the mushroom tea variety, with harmoniously baroque pop stirred with extended jams. Amen Dunes, who played third, is more spacey, working on pure vibes at times. Songs too, but definitely Damon McMahon's music is more about floating with than active participation.
In between was LODRO and it was my first time seeing them despite their reputation for endless local gigging (like DIIV who they opened for two days earlier). They were definitely my personal favorite of the three, and the trio -- who pronounce their name "low-dro" -- make a strong impression. While best know for her stint in party rockers Friends, Lesley Hann is a commanding presence here, and maybe just a little intimidating. It could just be their intense brand of creepout blues (think Nick Cave, The Cramps' version of "Fever") is dead serious and pretty badass, aided in no small part by drummer Jigmae Baer and guitarist/singer Jeremy Cox. All three are also in Royal Baths though LODRO seems to be the focus now. Deservingly.
More photos from our show at Knitting Factory are below.

---