Frank Bango benefit show @ Bowery Ballroom, NYC – pics
Nada Surf

Frank Bango

(Dean and) Britta

Nada Surf (acoustic), Dean & Britta, Richard Buckner, Sam Champion, Scott Matthew, Tara Angell & David Poe, Simone White and Frank Bango himself performed at the Bowery Ballroom in NYC on Tuesday night in order to raise money for Frank Bango.
Bango, who has just completed nearly two years of cancer treatments, is incredibly grateful for the generosity of The Bowery and his friends. The Bowery Ballroom has been Frank's home as a bartender, bar manager, musician and fan for almost ten years.
The show started at 8 and ran until around 1 am, More pictures below....

Scott Matthew...
Tara Angell & David Poe...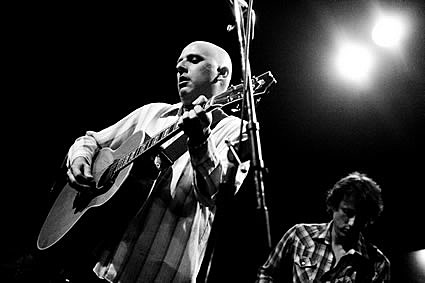 In other news, Frank Bango just released "The Sweet Songs of Decay", his latest full-length, which was recorded mostly in New York at Jack McKeever's Maid's Room Studio and in Frank's NYC apartment, as well as in Hoboken, New Jersey.

Bango produced the record with help from numerous friends and allies including Sean Eden (Luna), Steve Calhoon (Pretendo, Skeleton Key, Vic Chesnutt, Daniel Johnston), Jane Scarpantoni, Joan Wasser, Graham Maby (Joe Jackson), Jeremy Chatsky, and Bango's longtime band The Magic Fingers. The record was mixed by Pete Min and Ed Stasium (Talking Heads, The Ramones, The Smithereens, among countless others).