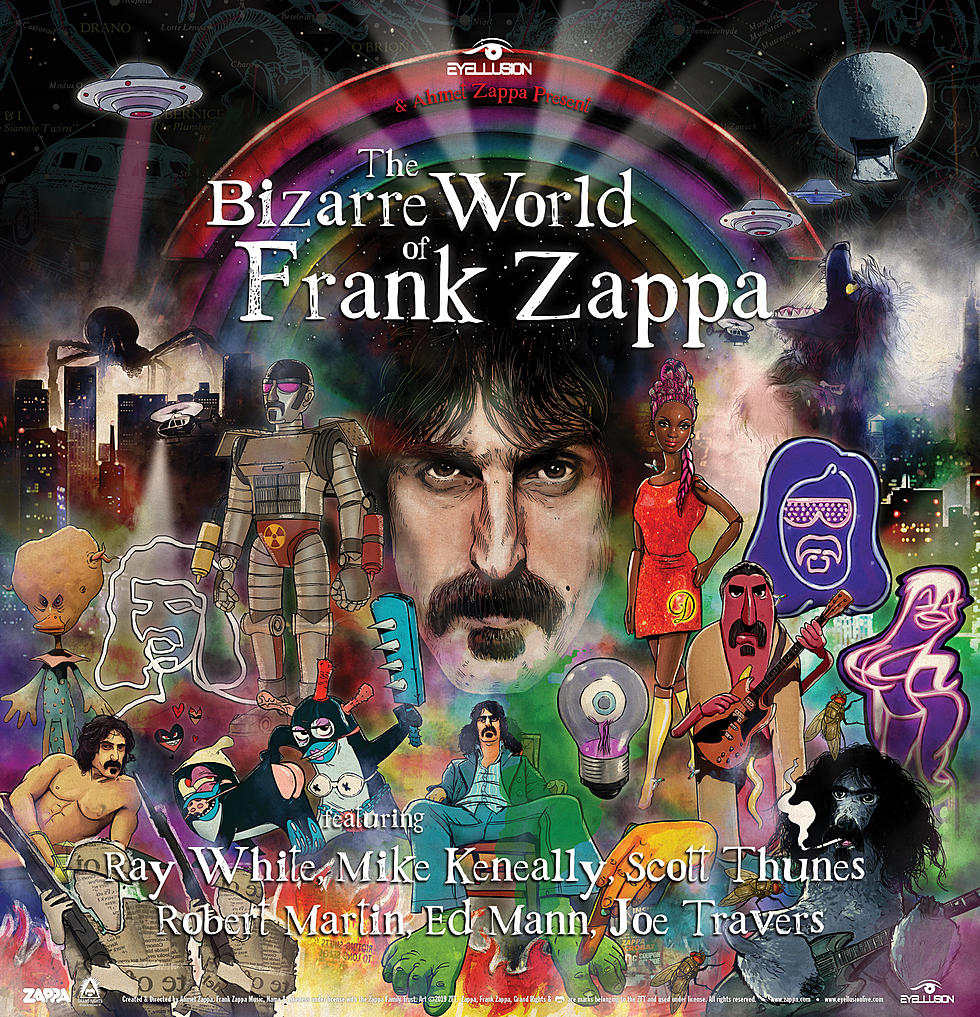 Frank Zappa hologram tour dates announced
Plans for a Frank Zappa hologram tour produced by Eyellusion and the Zappa Family Trust were revealed back in 2017, then the tour underwent some lineup changes (Adrian Belew backed out), and now the US debut of the "Bizarre World Of Frank Zappa" has been officially announced. It features former Zappa bandmates Ray White, Mike Keneally, Scott Thunes, Robert Martin, Ed Mann, and drummer/Zappa archivist Joe Travers. Frank's son Ahmet Zappa (EVP of business development for Eyellusion and co-trustee of the Zappa Family Trust) said:
We're excited to world premiere a handful of Frank Zappa compositions; these mind-melting concerts we're putting together celebrate the music, often surreal imagery and humour synonymous with Frank. We will be pushing the limits of what anyone has seen holographically on stage before in a live venue. Circumstances, objects, places and subject matter from Frank's songs and imagination will be brought to life for the first time on stage. We are anthropomorphizing Frank's music utilizing various visual techniques, art styles, classic imagery from his album artwork and characters from his songs, culminating in one extremely bizarre, live music experience.

My father and I actively discussed 3D and 'holography' and it was a concept he actively engaged in. He actually devoted half a chapter of his The Real Frank Zappa Book to this subject. This is a love letter and a journey celebrating the genius artistry of Frank Zappa. On a personal note, I feel like I am finishing something my father started years ago. And let's not forget, Frank himself will be rocking his fans, alongside his bandmates like nobody's business.
The tour hits the NYC-area for shows on April 19 at the Capitol Theatre in Port Chester (tickets); April 22 at Count Basie in Red Bank, NJ (tickets); and April 24 at The Paramount in Huntington on Long Island (tickets). The Capitol Theatre show goes on sale Friday (2/15) at noon and the NJ/LI shows go on sale Friday at 10 AM, with various presales starting beforehand. All dates are listed below.
Steve Vai had said he was "invited to contribute to 3-4 shows" of the tour, though there's no word of his involvement in the announcement for these dates.
The Bizarre World of Frank Zappa -- 2019 Tour Dates
4/19 Port Chester, NY - Capitol Theater
4/20 Rochester, NY - Kodak Center Theater
4/22 Red Bank, NJ - Count Basie
4/24 Long Island, NY - Paramount Theatre
4/26 Boston, MA - Shubert
4/28 Albany, NY - The Palace Theatre
05/1 Wilkes Barre, PA - Kirby Center
05/2 Collingswood, NJ - Scottish Rite Auditorium
05/3 Baltimore, MD - The Modell Lyric
5/9 Edinburgh, UK - Playhouse
5/11 Gateshead, UK - Sage
5/12 Manchester, UK - Bridgewater Hall
5/13 Birmingham, UK - Symphony Hall
5/14 London, UK - The Palladium
5/16 Ostend, BE - Kurssal
5/17 Amsterdam, NL - Rai Theater