Frankie & the Outs album info, MP3, video, tour dates & pics
Despite her dislike of touring, Frankie Rose is taking the Outs on the road in October to support their self-titled Slumberland debut which is released September 21. You can download "Little Brown Haired Girls" from the album at the top of this post. The East Coast tour launches October 18 in Chapel Hill but more dates seem likely to be added, certainly on the way down to North Carolina. Before that, the Outs have two local shows scheduled: Saturday, August 14 at the Jelly's Rock Yard with Chief, Minks and Total Slacker; then an official record release show at Glasslands on September 15 with Light Asylum, Minks and Mirror Mirror (tickets).
The Outs have slimmed to a four-piece (no more keyboardist) and have become a pretty solid band in the last year. Maybe you caught their last-minute late night set this past Saturday (7/24) at Cameo, sharing the bill with Magic Kids and Xray Eyeballs. (Video from that below.) The album, 11 songs clocking in just under 30 minutes, has a definite through line of all the bands Rose has been in over the last three years (Vivian Girls, Crystal Stilts) but she is definitely doing her own thing, with an emphasis on multi-part harmonies. (Most evident on their gorgeous cover of Arthur Russell's "You Can Make Me Feel Bad" which there's live video of below.) It's more mellow, dreamy, than anything she's done before. Twangier too.
All Frankie Rose and the Outs tour dates, plus album art and a couple live videos, and a set of unplublished pictures from SXSW this year, are below...

--
Frankie and the Outs @ Spider House during SXSW...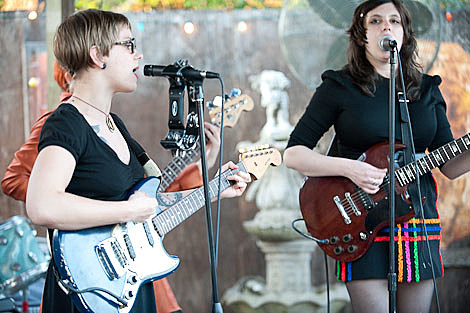 Frankie Rose and the Outs - "You Can Make Me Feel Bad"

Frankie Rose and the Outs - "Candy" live at Cameo Gallery, 7.24.2010

frankie rose
Frankie Rose and The Outs
Frankie Rose and The Outs
(Slumberland)
Street date: Sept. 21, 2010
1. Hollow Life
2. Candy
3. Little Brown Haired Girls
4. Lullubye for Roads and Miles
5. That's What People Told Me
6. Memo
7. Must Be Nice
8. Girlfriend Island
9. You Can Make Me Feel Bad
10. Don't Tred
11. Save Me
Frankie Rose and the Outs - 2010 Tour Dates
Sat-Aug-14 Brooklyn, NY JellyNYC Rock Yard *
Wed-Sep-15 Brooklyn, NY Glasslands $
Mon-Oct-18 Chapel Hill, NC Local 506 #
Tue-Oct-19 Baltimore, MD Ottobar #
Wed-Oct-20 Philadelphia, PA Kungfu Necktie #
Sun-Oct-24 Cambridge, MA TT The Bear's Place #
Tue-Oct-26 Rochester, NY Bug Jar #
Wed-Oct-27 Cleveland, OH The Spot at Case Western #
Thu-Oct-28 Chicago, NY Empty Bottle #
* = w/ Chief, Minks, Total Slacker
$ = RECORD RELEASE SHOW w/ Light Asylum, Minks, Mirror Mirror
# = w/ WOVEN BONES