Franz Nicolay shows, new Hold Steady album, Terminal 5 pics
The Hold Steady @ Terminal 5, NYC - Nov 21, 2007 (Leia Jospe)

That picture up there is Franz Nicolay of the Hold Steady playing with The Hold Steady at Terminal 5 in NYC right before Thanksgiving. It was the last show on their tour with Art Brut and the 1990s (not the 1900s who are playing Mercury Lounge tonight). I loved that show, and Leia even took a bunch of pictures for this website, but the post about it sort of got lost in the holidays, so.... here it finally is.......just in time to point out that Franz has some other shows coming up too...
January 11 - FRANZ NICOLAY @ Silent Barn (tonight!)
January 13 - FRANZ NICOLAY @ Maxwell's w/ Emilyn Brodsky & Whack
January 26 - GUIGNOL @ Luna Lounge - Masquerade Ball & Burlesque. Come fancy and masked.
Feb. 1 - WORLD/INFERNO @ Bowery Ballroom w/ Gutbucket!
That covers Franz solo, Franz in Guignol, and Franz in World/Inferno Friendship Society. More photos of Franz & The Hold Steady @ Terminal 5, below....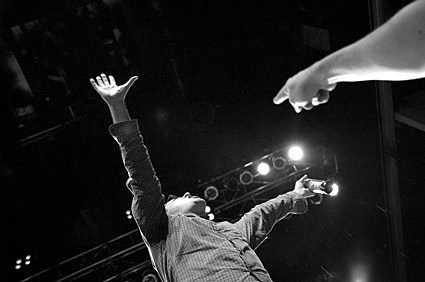 Eddie Argos and Art Brut joined Hold Steady on stage for the encore....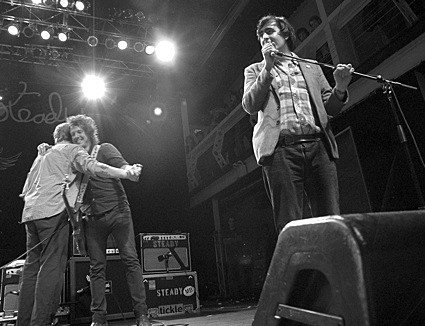 But what about that new album you ask? Oh yeah, here's a letter from Craig:
Hey all. Wanted to give an update on new happenings and a few changes. And I needed to take a break from combing the web for footage from the Led Zeppelin reunion show...

For the last few weeks we've been holed up in our rehearsal space in Greenpoint finishing up preproduction with John Agnello for the new album. Since the band's beginning, this is the longest we've gone without being in the studio. I've never looked forward to being placed in a giant aquarium with headphones like I have been lately.

We'll be recording for most of January and February and I'll post updates and photos for those interested. No release date yet but you all will be the first to know.

As we put Boys And Girls In America to rest, we'll be making some changes to the website. My man Sean over at Vagrant has whipped up some new software for the folks in our on-line community (You know... For kids). So as of this week, our message board will go the way of the Dodo. We will have something temporary, but it will be a few weeks before we can get the new site up. It will be a stronger, faster THS site. It will also make it easier to share photos, live tapings, rides to shows, stories, etc. Please forgive the mess. We're remodeling.

Keep a close eye on the shows page for one-offs and special events in the new year.

And if you see us stumbling around the city on New Years Eve celebrating Galen's birthday, don' tell our moms.