Frightened Rabbit & David Karsten Daniels @ Bowery Ballroom, NYC – pics & setlist
words & photos by Natasha Ryan
Saturday Night (1/17) Frightened Rabbit played a sold out show Bowery Ballroom, featuring openers Right on Dynamite and David Karsten Daniels.
Right on Dynamite is a 3 piece pop garage-rock band from Brooklyn. The band has received quite a few comparisons to The Strokes, which I think are a bit strange, as the overall sound leans more towards the emo-punk spectrum, seen in tracks such as "Mantra for Madness". They had a very energetic set with lots of handclaps, stomps, tambourine shaking, and playful hooks. The vocals reminded me of bands like Penfold, but with added choruses ranging from falsetto cooings to "do it do it" harmonies. I would recommend "Changing of the Guards" if you decide to check them out.
David Karsten Daniels, a nomadic singer-songwriter currently based in Portland, Oregon, was an interesting contrast to the opener. His songs frequently started with slow builds that climaxed to spastic guitar arrangements bolstered by powerful rhythms and additional vocals from his drummer, and then would slowly fade back out when Daniels came to the front of the stage to sing off mic. Other songs were sparser, sweet melodic ballads with clever story-telling lyrics. Although there were lots of howls and excitement in the front row, during the quieter moments loud bar conversation could be heard in the back. Stand out tracks were "Falling Down" and "Jesus and the Devil".
Frightened Rabbit. The very humble indie outfit from Glasgow, Scotland talked about how they weren't accustomed to playing in front of large crowds, but their engaging stage presence intended otherwise. They played their set wrapped in darkness, spare a few flickering strobes, giving the illusion of an arena show. They opened with the favorite "The Modern Leper", and played a few songs from "Singing the Greys" towards the end of the set before performing a 3 song encore.
(Editor's note: I got there just in time to see Frightened Rabbit. Bowery was crazy packed for their set, and as Natasha pointed out, the large amount of people made a strong impression on the band. The crowd also let the band know how much they were loving every minute of the show. I think it's safe to say 2009 is going to be a very good year for this band.)
Since Bowery, Frightened Rabbit went on to play an inauguration-eve show in Washington DC, and are back in NYC on February 2nd to play an all-request, acoustic show at Le Poisson Rouge. Honestly though, I hope they don't actually play that entire show unplugged. It will still be good, but maybe not AS good. Tickets are on sale. David Karsten Daniels is back in NYC this Wednesday to play Union Hall. More pictures from Bowery, and the FR setlist, below...

Right On Dynamite...
David Karsten Daniels...
Frightened Rabbit...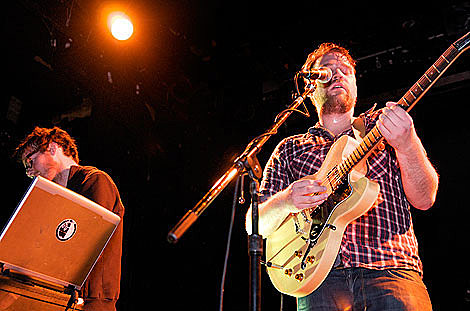 Frightened Rabbit Setlist:
The Modern Leper
Fast Blood
Old Old Fashioned
Good Arms vs. Bad Arms
The Twist
Backwards Walk
Head Rolls off
Floating in the Forth
The Greys
Square 9
Encore
Poke
Song
Keeping yourself warm