Fuck the Facts, Magrudergrind, Defeatist & Attake played Cake Shop (pics & video)
words by Kim Kelly, photos by BBG
Mel has a few choice words with the audience

Summertime is the perfect time of year to crawl into a dingy, poorly-ventilated basement, shove up against a couple dozen long-haired dudes, and take in the aural splendor of a down'n'dirty grindcore show. Spend too much money on beer (or sneak in some forties), forget your earplugs, scream along, then leave slightly sore and soaked in a sure-to-be-unhealthy amount of other peoples' sweat. At least, that's what the fine folks of 1000 Knives and Brooklyn Vegan thought when they summoned up this unholy lineup and unleashed it upon the Lower East Side on Saturday (Aug 7th).
Hometown hellraisers Atakke stormed the stage with a characteristically furious thrash/death assault, battling through some slight technical difficulties and bringing the mosh, hard.
I've somehow never seen Defeatist before, but am kicking myself for not making a point of doing so earlier. They absolutely slayed, dealing out raw, chaotic grindcore interlaced with shards of noise and broken glass, seething with hate, and buried by grime and crust. Do not miss their next show (w/ Black Army Jacket at the Cake Shop on Sept. 4th).
Magrudergrind were on their grind as usual, busting out a short'n'nasty collection of up-tempo, bottom-heavy punk rock beatdowns. Their music is a thrashing crusty filthy mess, and god do kids love it - the entire venue erupted into chaos upon every manic exhortation and wicked bass drop. Killer.
Fuck The Facts are a strange, unruly collective, and a force to be reckoned with in a live setting. As the crowd collectively lost its shit, the Canadian quartet sweated through a head-spinning set of twisted, off-kilter grind. Frontwoman Mel Mongeon stalked the stage like a caged lion, guttural roars and all. She also showed herself to be much cleverer than the average metalhead, as her summery ensemble of tank top and paisley skirt was undoubtedly a sight more comfortable than the filthy black t-shirts and jeans the rest of us were stewing in. The sound at the Cake Shop did the band plenty of justice, and Fuck The Facts played just long enough to drive their point home. Fucking rad.
Tons more pics and some videos below...

--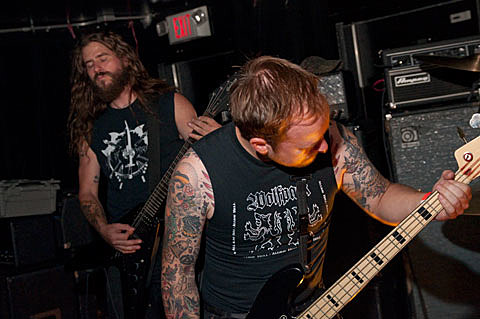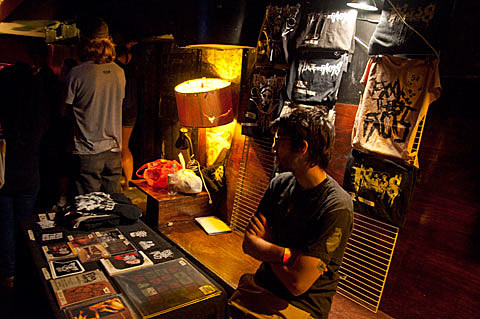 Atakke at Cake Shop, 8/7/10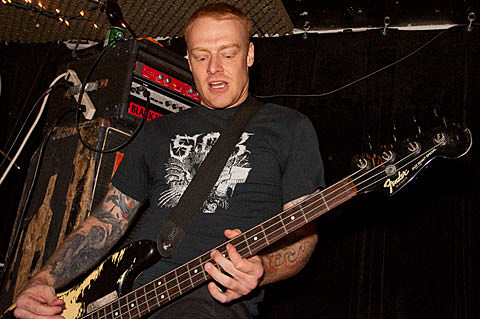 Defeatist at Cake Shop, 8/7/10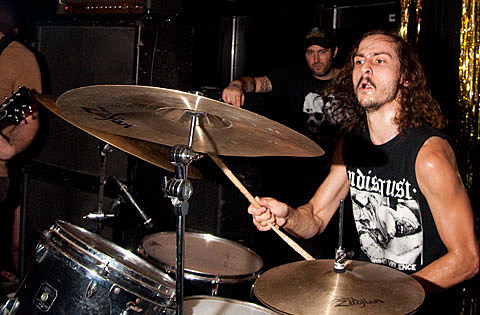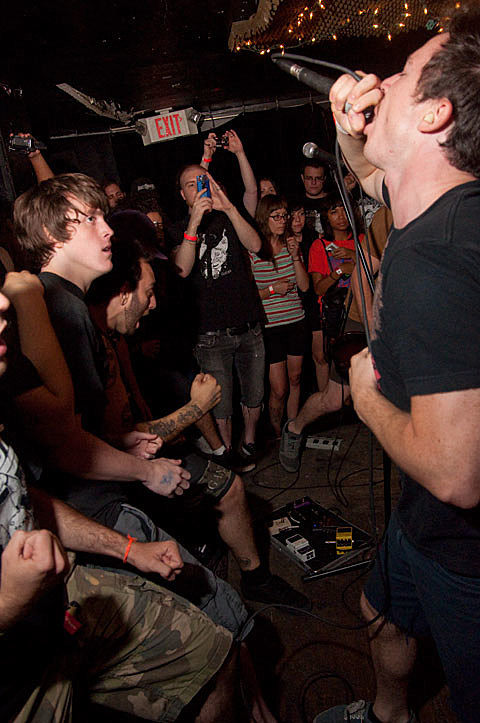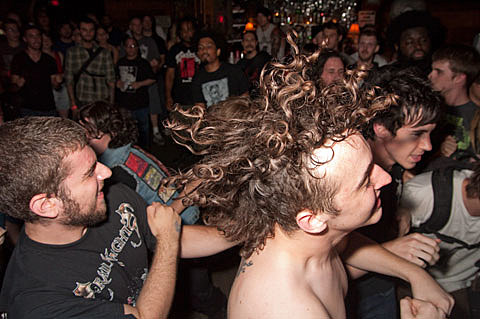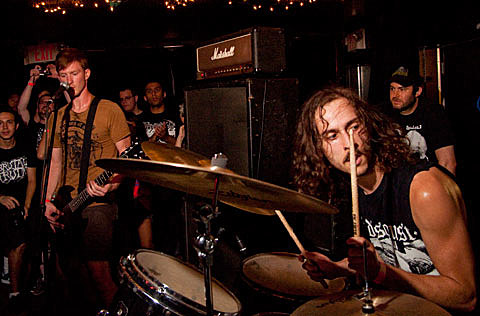 Magrudergrind at Cake Shop, 8/7/10

Fuck The Facts at Cake Shop, 8/7/10