Fuck the Facts, Anal Cunt, Locrian, Compremesis & Gwynbleidd – Show No Mercy pics & more dates
Justina Villanueva
Fuck The Facts

Public Assembly was a highly eclectic affair. Seth Putnam and his band of antisocial fuck-ups were teamed up with the punishing grind assault of Fuck The Facts, prog-leaning stylings of Gwynbleidd, ambient nightmares brought on by Locrian, and the silly yet brutal deathgrind of Copremesis (seriously silly... Copremesis even did a techno "performance" complete with glowsticks)!
Fuck the Facts also played Hostile City Deathfest too, but on on July 4th. Our friends at Invisible Oranges were there:
Canada's Fuck the Facts are seasoned veterans, and it showed. Vocalist Mel Mongeon evokes Henry Rollins' warrior poses. She constantly coils and uncoils, bounding up on monitors, crouching down low, shrieking, growling, spitting. Her eye contact is not rehearsed. She is fully "in" her performance, and if she stares daggers through you, it is incidental and fleeting... Her band's grindcore meshes Godfleshian harmonics and tectonic sludge with punishing blastbeats.
Next up FTF will tour for a couple weeks at the tail end of July leading up to Central Illinois Metalfest (Anal Cunt is there too) and a few scattered dates before and after.
All FTF, Locrian(with The Human Quena Orchestra), and AxCx dates, and the rest of the July Show No Mercy pictures, are below....

Compremesis...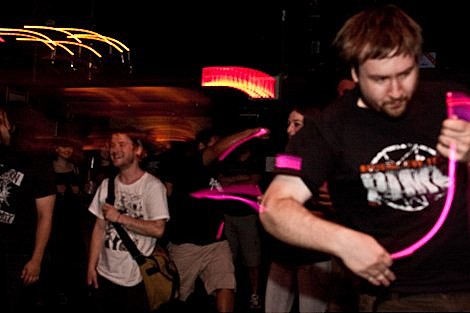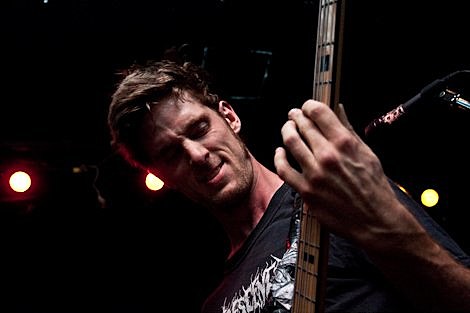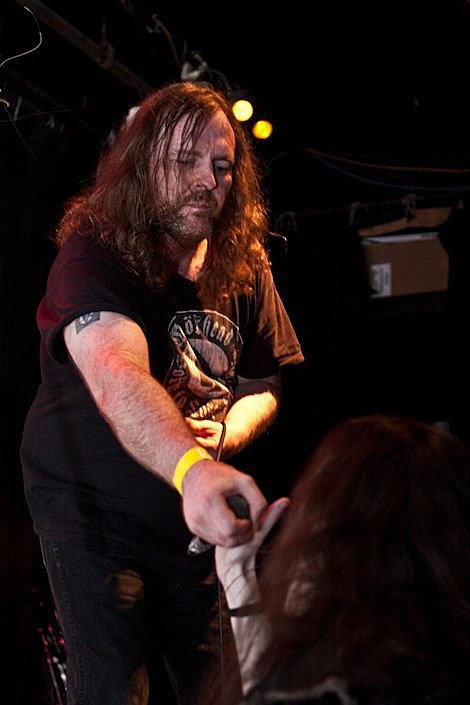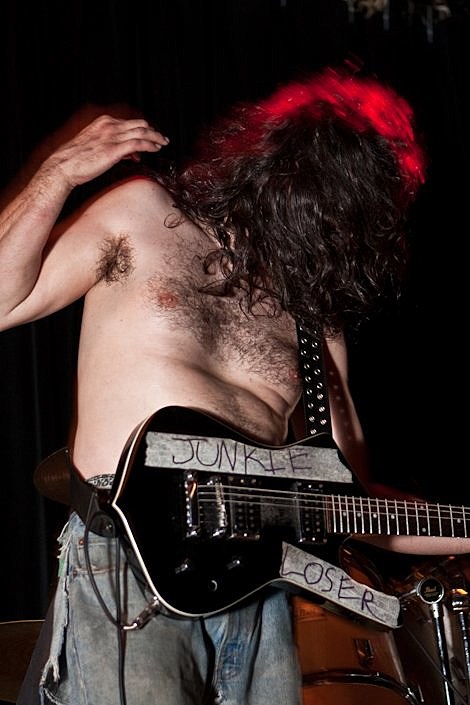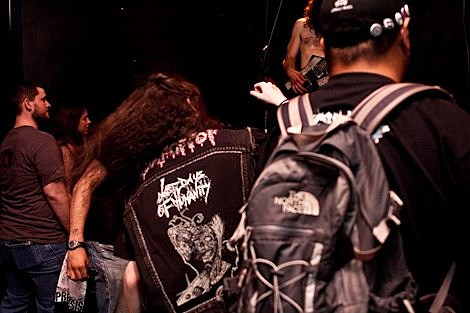 FUCK THE FACTS - 2009 TOUR DATES
Jul 17 2009 73 St. Catherines, Ontario
Jul 18 2009 The Foxx Lounge Barrie, Ontario
Jul 28 2009 Recess Coffee Syracuse, New York**
Jul 29 2009 Talking Head Baltimore, Maryland*
Jul 30 2009 The Smiling Moose Pittsburgh, Pennsylvania*
Jul 31 2009 Frankies Toledo, Ohio***
Aug 1 2009 The Canopy Club - Central Illinois Metalfest Urbana, Illinois
Aug 2 2009 White Star Bar Chicago, Illinois*
Aug 3 2009 The Intersection Grand Rapids, Michigan*
Aug 4 2009 Floyd's Bar Detroit, Michigan
Aug 15 2009 Bar Chez Norm Waterloo, Quebec
Sep 18 2009 Brunswick Tavern St. Thomas, Ontario
Sep 19 2009 Moon Over Marin London, Ontario
* w/ Rumpelstiltskin Grinder
** w/ Engineer
*** w/ Anal Cunt
LOCRIAN, HUMAN QUENA ORCHESTRA - 2009 TOUR DATES
Jul 11 2009 Skylab Columbus, Ohio
Jul 12 2009 Dayton Dirt Collective Dayton, Ohio
Jul 13 2009 Empty Bottle Chicago, Illinois
ANAL CUNT - 2009 TOUR DATES
Aug 1 2009 central illinois metal fest somewhere in illinois
Oct 1 2009 TRIBUTE SANDNES
Oct 2 2009 GARAGE BERGEN
Oct 3 2009 ELM STREET OSLO
Oct 10 2009 LUMINAIRE LONDON
Oct 12 2009 MOHO LIVE MANCHESTER