Fucked Up & Off! are here, played NXNE (pics) — (and btw: 285 Kent tix on sale @ Record Grouch)
photos by Natasha Ryan
Keith Morris of Off!

Like they will TONIGHT (6/23) at Terminal 5 in NYC, Off! and Fucked Up played a show together in Toronto on June 16th. The free show happened as part of NXNE, outside in Toronto's central Yonge & Dundas Square. It was headlined by the Descendents. Pics are in this post.
Tonight's NYC show will be headlined by Dinosaur Jr. who will be playing "Bug" in its entirety, and other songs too. And like in Northampton, brave Henry Rollins will do some spoken word and live interviewing on stage right in the middle of the otherwise heavy and musical show. Tickets are still available.
--
Fucked Up

Saturday June 25th is the day that "special guest" headline the show with JEFF the Brotherhood and Iceage AT 285 Kent. Tickets for the show are on sale at Record Grouch in Williamsburg. "CASH ONLY! NO ONLINE SALES/HOLDS! DRAG YER ARSE TO THE STORE IN PERSON TO GET 'EM!"
More NXNE pics and all Fucked Up dates below...

--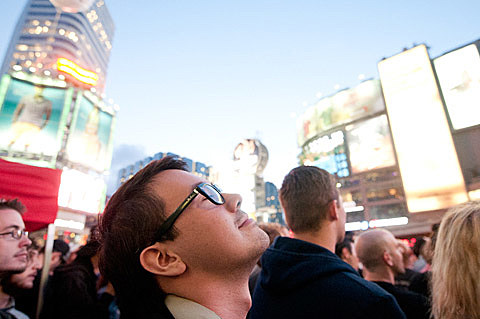 Fucked Up
Off!
Descendents pics HERE.
Fucked Up -- 2011 Tour Dates
06/23 - New York, NY / Terminal 5 w/ Dinosaur Jr, OFF!
06/24 - Boston, MA / Royale * & Iceage
06/26 - Philadelphia, PA / First Unitarian Church*
06/27 - Washington, DC / Rock and Roll Hotel*
06/28 - Raleigh, NC / Kings Barcade*
06/29 - Atlanta, GA / The Earl*
06/30 - Nashville, TN / Exit / In* , Diarrhea Planet
07/01 - St. Louis, MO / Firebird*
07/02 - Chicago, IL / Lincoln Hall*
07/03 - London, ON / Call the Office
07/22 - Seattle, WA / Capitol Hill Block Party
07/23 - Portland, OR / Hawthorne Theatre
07/25 - San Francisco, CA / The Independent
07/26 - Los Angeles, CA / El Rey Theatre
07/27 - San Diego, CA / The Casbah
07/30 - Montreal, QC / Osheaga Festival
08/09 - Toronto, ON / Air Canada Centre **
08/10 - Montreal, QC / Bell Centre **
* w/ JEFF The Brotherhood
** w/ Foo Fighters