Fucked Up release new song from 'Glass Boys,' playing LP release show in NYC (MP3/video & other dates)
Fucked Up at SXSW 2014 (via Matador Twitter)

Fucked Up, who were just down in Austin for SXSW, still haven't announced a release date for their upcoming fourth album, Glass Boys (due out via Matador), but they have announced that they'll play a record release show in NYC on June 6 at Bowery Ballroom, so presumably that means we'll get the album around then. Tickets for that show go on sale Friday (3/21) at noon.
UPDATE: The band just released the album's first single, "Paper the House," the album artwork, and tracklist. Download the track above, and watch a HQ live video of it below. They also announced that the album will be out on June 3.
The band have a few other dates announced at the moment too. All of those are listed, with the album trailer, below. As you may know, Fucked Up also release the newest entry in their zodiac series, Year of the Dragon, this year.

---
Fucked Up - "Paper the House"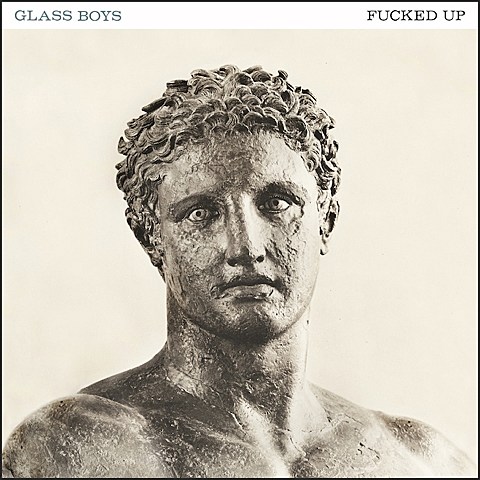 Tracklist:
Echo Boomer
Touch Stone
Sun Glass
The Art Of Patrons
Warm Change
Paper The House
DET
Led By Hand
The Great Divide
Glass Boys
Fucked Up -- 2014 Tour Dates
April 19 - Oakland, CA - Tankcrimes Brainsqueeze Festival
April 27 - St. John's, NL - Lawnya Vawnya
June 06 - New York, NY - Bowery Ballroom
June 08 - Toronto, ON - Field Trip Festival
June 13 - B Sides Festival, Lucern, Switzerland
June 14 - VK, Brussels, Belgium
June 15 - Gorilla - Manchester, UK (with Lower)
June 16 - The Cluny, Newcastle, UK (with Lower)
June 17 - Belgrave - Leeds, UK (with Lower)
June 18 - Koko - London, UK (with Lower)
June 19 - Point Ephemere, Paris, France
June 20 - Hurricane Festival - Scheessel, DE -
June 21- Southside Festival - Neuhausen Ob Eck, DE
June 22 - Best Kept Secret Festival - Hilvarenbeek, NL
August 09 - Montreal, QC - Heavy MTL