Fucked Up, Title Fight and Hop Along played a wild opening night at House of Vans (pics, videos)
Fucked Up / Title Fight

This summer's free House of Vans concert series kicked off last night with a stacked triple billing of Fucked Up, Title Fight, and Hop Along. Despite a bit of rain over the outdoor drink/food area (which was actually kinda nice considering how hot it was inside), it was a great start to this year's HoV season. The line was pretty long even an hour before doors, but getting inside went pretty smoothly and the lines for the free beer weren't much trouble either. All the bands were great too.
Hop Along kicked things off around 7:45, and though they were the calmest band on the bill, they were no less intense to watch. Frances Quinlan is seriously such a powerhouse singer, wailing away with no interest in taming her voice, which she wouldn't need to do anyway. Frances opened the show with one song solo, and then was joined by her band for the rest of the set, which was pretty similar to their recent Bowery Ballroom show. It included a bunch of Get Disowned standouts and their recently released single, "Sister Cities."
Next up was Title Fight, who had the biggest and wildest crowd of the night, and they wasted no time making that happen. With little to no introduction the band tore right into their first song with Ned Russin swinging his bass and jumping around on stage while screaming into his mic. The crowd was packed with devoted fans yelling every word and starting all kinds of raucous pits throughout the show. The set was heavy on last year's excellent Floral Green album, but included a couple early cuts for the longtime fans (who, as you may have guessed, went totally apeshit for them).
Finally, Fucked Up closed out the night, and though the place had cleared out a bit after Title Fight, Fucked Up were excellent as always and had themselves a fairly wild crowd too. Damien was characteristically funny on stage (he debuted his 4 year old son's new song, whose lyrics consisted only of "I love the word 'penis'" repeatedly), and of course, he spent about 80% of the show in the crowd. They played a couple new ones, in addition to their usual trek through the David Comes to Life material and some other live staples like "I Hate Summer" and "Son The Father."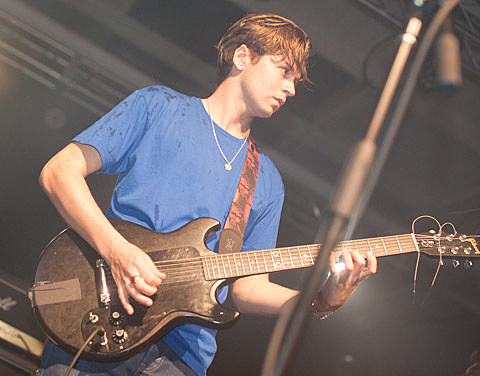 Fucked Up at House of Vans - 6/27/13

Title Fight at House of Vans - 6/27/13

Hop Along at House of Vans - 6/22/13