Fucked Up & Vivian Girls @ Market Hotel, NYC – pics
After missing out on Fucked Up's two previous night's of NYC fun, I dropped by their gig at Market Hotel (10/16).
I missed Canadian punks Inepsy, but caught Vivian Girls whose sound bounced nicely around the wedge-shaped room. Lately they've been reminding me of Electrelane (who I'm also secretly hoping they turn into).
It was my first time seeing Fucked Up, and from the pictures, videos, and constant write-ups I found it hard to anticipate what would actually happen. The Village Voice wrote, "It took all of no time at all for a moshpit to break out...there is, so far, nothing comfortable at all about this show. It's quite savage".
Maybe the vibe was way different, but the Market Hotel show was anything but uncomfortable (less uncomfortable too since they started requesting that people smoke in the backrooms, due to the space's one window of ventilation).
Fucked Up took the stage quickly (which is always appreciated) and went on to host the evening like a house party show. They took requests, handed the mic off to crowd-members and friends (see below), and thanked the crowd graciously afterward for coming. There were a couple references to the show the night before at Bowery Ballroom along the lines of, "Where were you guys last night?" - directed toward the twenty/thirty or so kids in front diving on each other to get their singalongs into the mic.
Some highlights were the the creepy interlude of "David Comes to Life" sang from the middle of the crowd, the transition from Hidden World opener "Crusades" to Chemistry of Modern Life opener "Son the Father," and "Crooked Head" with Vivian Girls on back-up vox.
To cap the night, a guy named Mike sang a cover, followed by a buy named Ian. Pink Eyes stood to the side with a huge grin on his face, announced that Ian's performance couldn't be topped, and the band closed with him singing another cover.
More pictures from the show below...

Inepsy...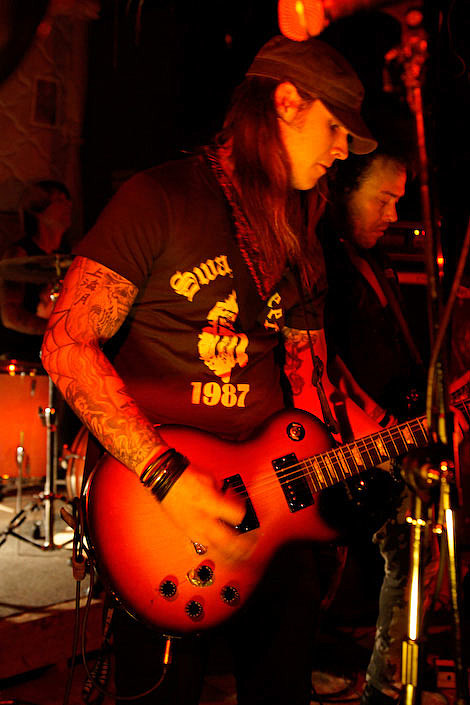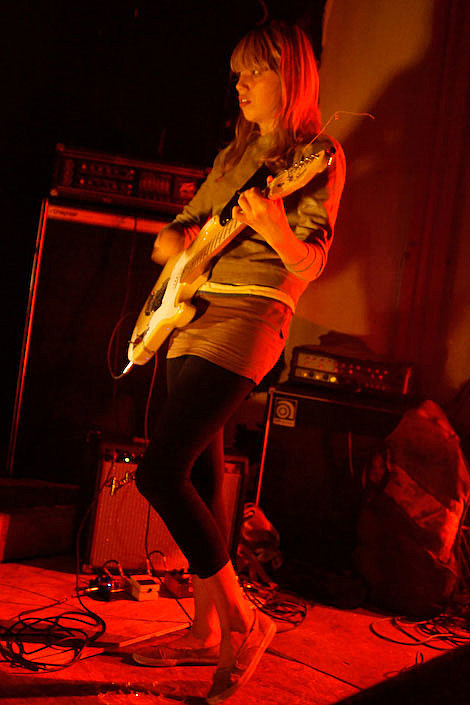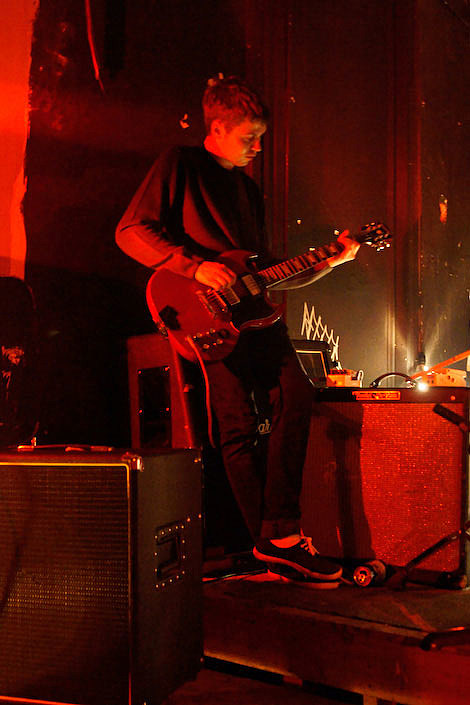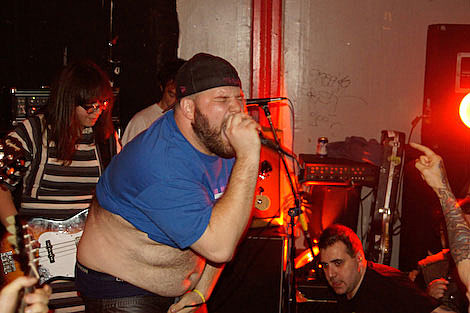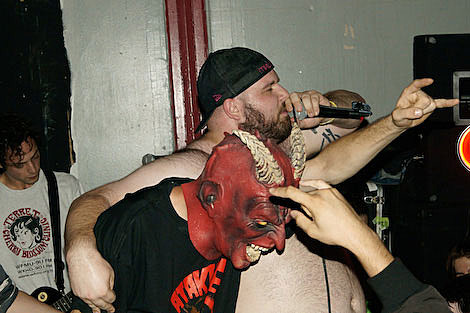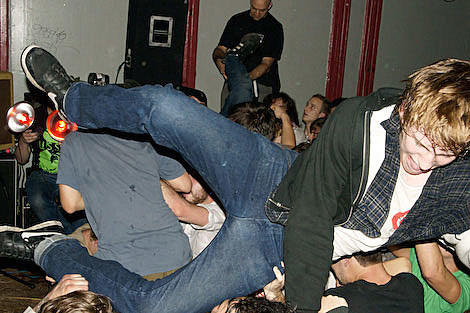 More Fucked Up tour dates HERE. More Vivian Girls tour dates here....
Vivian Girls - 2008 Tour Dates
Fri-Oct-17 Baltimore, MD Sonar $
Sat-Oct-18 Philadelphia, PA The Barbary $
Sun-Oct-19 Washington, DC Rock And Roll Hotel $
Tue-Oct-21 Brooklyn, NY CMJ Red Bull Space 11pm
Thu-Oct-23 New York, NY CMJ Don Pedro's 10pm
Fri-Oct-24 New York, NY CMJ Cake Shop 12am
Sat-Oct-25 New York, NY CMJ Bowery Ballroom 1am
Sun-Oct-26 New York, NY Santo's Party House !
Thu-Oct-30 Toronto, ONT FU Fest - Sneaky Dee's $
Sat-Nov-08 New York, NY Bowery Ballroom &@
Mon-Nov-10 Boston, MA Paradise &@
Sun-Nov-16 Los Angeles, CA Echoplex / Part-Time Punks Fest #
Mon-Nov-17 San Diego, CA Casbah #
Tue-Nov-18 Los Angeles, CA The Smell #
Thu-Nov-20 San Francisco, CA Bottom Of The Hill #
Fri-Nov-21 Sacramento, CA Luigi's Fun Garden #
Sat-Nov-22 Portland, OR Backspace #
Sun-Nov-23 Seattle, WA Nectar Lounge #
Fri-Nov-28 Philadelphia, PA Johnny Brenda's +
Sun-Nov-30 New York, NY Bowery Ballroom +
Wed-Dec-31 Montclair, NJ Wellmont Theatre *
$ = w/ F***ED UP
& = w/ Deerhunter
@ = w/ Times New Viking
! = w/ Jay Reatard
+ = w/ King Khan
* = w/ Yo La Tengo, The Feelies
# = w/ Love is All