Fucked Up's new concept album (streaming), companion comp (on eBay), name (still unprintable), tour dates (NXNE & more)
Fucked Up at ATP NY 2010 (more by Samantha Marble)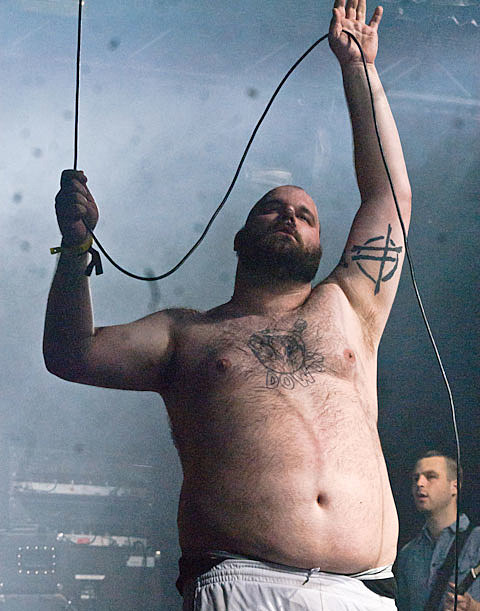 Fucked Up are set to release their upcoming hardcore-punk rock opera, David Comes To Life, on June 7 via Matador (buy early, get now). The album is a concept album that takes place in a fictional British town in the late 1970s and early '80s, and is centered around the character David. David falls in love with a girl, Veronica, who soon dies and the album continues, telling the story of David's subsequent struggles as he deals with Veronica's death while reconnecting with his former lover, Vivian. Although using the words "punk" and "rock opera" in the same sentence can be unnerving, to the say the least (think American Idiot), Fucked Up have eschewed the bombastic qualities associated with the often-presumptuous "punk opera," and created their sincerest record yet. I don't think we'll be seeing Damian Abraham on Broadway any time soon (though those in Canada can see him on TV).
In the "album trailer" for DCTL (watch below), Tom Scharpling, host of "The Best Show on WFMU," says, "They kind of didn't change themselves to make a concept album, they made the notion of a concept album come to them." That's what what sets the album apart from ambitious punk failures of the past. Fucked Up apply a 78 minute love story to the vigor and spirit of the late '70s/early '80s punk and hardcore that they've honed throughout their career. Damian retains his throaty growl, but favors pop melodies over a more traditional hardcore delivery.
David Comes To Life features guest vocals from Madeline Follin of Cults as Veronica and Canadian pysch-folk singer Jennifer Castle as Vivian. Download Madeline Follin's contribution above in the track "Queen of Hearts" and one of Jennifer Castle's multiple appearances in "The Other Shoe," as well as the track "A Little Death." David Comes To Life is currently streaming in its entirety on NPR, who refers to the band as "F---- Up". I guess they're a little closer than the 2007 NY Times article which chose not to name the band at all. As The Guardian points out, this is still a problem:
While sitting on my sofa this morning, my seven-year-old daughter turned to me and said, 'Daddy, what does 'fucked up' mean?'", wrote the reader, referring to a music review of a punk band called Fucked Up, on page 22 of The Guide on 30 April 2011...What age do you recommend for Guardian readership if you are content to write 'Fucked Up' in bold text at the top of a review? 16 years old? 18 maybe?
In support of the album, Fucked Up released the compilation album, Fucked Up Presents: David's Town on Record Store Day. On April 16th the band posted this message:
Hey everyone, you may have tried to buy or bought our LP for Ebay Day, Davids Town. Since lots of creeps went out to buy this specifically to flip it on ebay as soon as they got home and make up random pressing amounts to put in the listing title, here are some facts:

-THERE ARE 2000 COPIES OF DAVIDS TOWN.
-IF YOU BUY IT ON EBAY NOW INSTEAD OF WAITING 2 WEEKS FOR THE PRICE TO GO DOWN YOU ARE DUMB
-THE PRICE WILL GO DOWN ON EBAY IN TWO WEEKS JUST LIKE LAST YEAR
The price did go down, though there aren't many on eBay right now. A seller from the UK has some (though he is wrong about there only being 500). David's Town features contributions by fictional punk bands from the town DCTL takes place in. The bands are played by Fucked Up themselves and feature a number of guest vocalists. Download the song "Do You Feed" by the fictional Animal Man above (Mediafire the whole album at your own risk).
All tour dates, album art and tracklists, and album trailer below...

--
Fucked Up - David Comes To Life Album Trailer

David Comes To Life Track listing:
ACT ONE: Love, then tragedy strikes the town.
1. "Let Her Rest" - 3:23
2. "Queen of Hearts" - 4:36
3. "Under My Nose" - 3:29
4. "The Other Shoe" - 4:57
5. "Turn the Season" - 4:02
ACT TWO: David loses Veronica, and then himself, as he succumbs to guilt and despair.
1. "Running On Nothing" - 4:46
2. "Remember My Name" - 5:09
3. "A Slanted Tone" - 3:40
4. "Serve Me Right" - 3:49
ACT THREE: Another character is revealed, putting the responsibility for Veronica's death into question.
1. "Truth I Know" - 4:33
2. "Life In Paper" - 4:38
3. "Ship of Fools" - 4:02
4. "A Little Death" - 4:36
ACT FOUR: A revelation from Vivian sheds more light on Veronica's death; Octavio and Vivian explain their motives, and David is reborn.
1. "I Was There" - 3:19
2. "Inside a Frame" - 4:18
3. "The Recursive Girl" - 3:34
4. "One More Night" - 5:36
5. "Lights Go Up" - 5:30
--

Fucked Up Presents: David's Town Track listing:
01 Porcelain On Porcelain / Byrdesdale Spa FC
02 Crown And Criers / Garden City
03 Gacy And The Boys / My Old Man's A Ginger
04 Redstockings / Unrequited Love
05 Animal Man / Do You Feed? (The Curry Song)
06 Wavy Originals, The / Fake Moments (Of True Love)
07 Grain / Light Rain
08 In Good Company / Harmony's Double
09 Hateful Coil / Bull Thunder
10 Das Schwache / Das Schwache
11 Wonderer / It's Hard To Be A Dad
--
Fucked Up 2011 Tour Dates
Sat-Jun-04 Houston, TX Free Press Summer Fest
Sun-Jun-05 Austin, TX Chaos in Tejas
Tue-Jun-07 Toronto, ON Joe Cornelissie Fest
Thu-Jun-16 Toronto, ON NXNE / Yonge-Dundas Square 8pm
Thu-Jun-16 Toronto, ON NXNE / Wrongbar (late show)
Thu-Jun-23 New York, NY Terminal 5 w/ Dinosaur JR
Fri-Jun-24 Boston, MA Royale w/ Jeff the Brotherhood, Ice Age
Sun-Jun-26 Philadelphia, PA First Unitarian Church w/ Jeff the B
Mon-Jun-27 Washington, DC Rock and Roll Hotel w/ Jeff the bRo
Tue-Jun-28 Raleigh, NC Kings Barcade w/ Jeef the BEff
Wed-Jun-29 Atlanta, GA The Earl w/ Fred the Broterh
Thu-Jun-30 Nashville, TN Exit / In w/ Jack Daniels
Fri-Jul-01 St. Louis, MO Firebird w/ Jeffy from Family Circus
Sat-Jul-02 Chicago, IL Lincoln Hall w/ Jeff the Bros
Sun-Jul-03 London, ON Call the Office
Sun-Jul-31 Montreal, QC Osheaga Festival
Tue-Aug 9 Toronto, ON Air Canada Centre w/ Foo Fighters, The Doughboys
Wed-Aug 10 Montreal, QC Centre Bell w/ Foo Fighters, The Doughboys
Wed-Aug 17 Munchen, Germany 59:1 w/ Off!
Thu-Aug 18 Wiesbaden, Germany Schlachthof w/ Off!
Fri-Aug 19 Koln, Cologne, Germany Underground w/ Off!
Mon-Aug 22 Segrate, Milan, Italy Circolo Magnolia
Tue-Aug 23 Madrid, Spain Nasti Club
Wed-Aug 23 Barcelona, Spain Moog