Fun Fun Fun Fest 2010 – Day Two in pics (part 2) – Cap'n Jazz, Dwarves, MGMT, Dirty Projectors, GWAR, Delorean & more
Timothy S. Griffin
photos by Tim Griffin
The Dwarves

Appreciative crowds turned up at all four [Fun Fun Fun Fest] stages [this past weekend], and the festival's vaunted circus atmosphere was out in force -- with plenty of traffic at the mechanical bull, the Eurobungy, the skate ramps and the arcade games set to free play. After a few weeks with unexpected, last-minute cancellations and other problems, Moody said the organizers were able to breathe a sigh of relief.
"All the snafus [like Devo cancelling] happened before the fest. We don't have a record of great luck, you know? Whether it be weather or bands or whatever," said Moody. "So when that kind of thing starts happening you start to wonder, 'Oh (expletive), is this gonna be another year with some weird curveball?' We were just hoping it wasn't a run of bad luck and it wasn't. We got a little bad luck before the festival but all kinds of good luck at the festival."
Even the dust cloud had a silver lining.
"We love the dust this year, because at least it's not raining," Moody said. "We hated the dust when it first happened a few years ago, but after it rained last year we were like 'Bring on the dust!'" [Austin 360]
The 2010 edition of Fun Fun Fun Fest, complete with constant dust in the air (a few smart people wore masks or bandanas over their face), is now over (and it's true, the dust is a bit uncomfortable, but the mud and rain last year was worse).
You saw pictures from Friday night, and the first half of Tim's shots from Saturday (11/6). Here are the rest of that day (with more coming soon). They continue below...


Cap'n Jazz
The Dwarves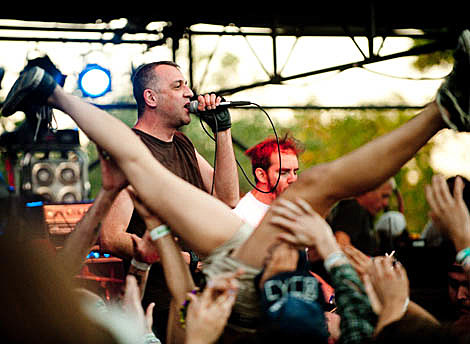 Moshe Kasher
Delorean
Man Man
Dirty Projectors
Gwar
MGMT
Bad Religion
RJD2
to be continued...