Fun Fun Fun Fest is soon (in Austin)… WIN TICKETS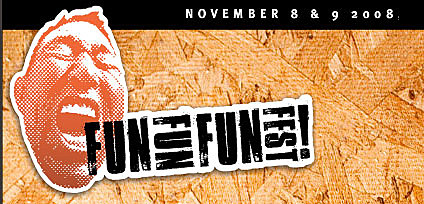 Fun Fun Fun Fest takes place in Austin, Texas on November 8th and 9th. If you haven't already, check out the ridiculous lineup and schedule. The only unfortunate thing, with four separate stages, is how many bands you have to make decisions to miss. For instance, you have to miss Clipse and CYHSY to see Bad Brains. You can't see The National or Neil Hamburger if you watch all of the Dead Milkmen. Municipal Waste (who replaced Flipper on the bill) overlaps with Rival Schools. Frustrating, but good problems to have.
One and two day tickets are still on sale. I also have a two day pass (worth $60) to give away. To get it....

TO WIN: email BVCONTESTS@HOTMAIL.COM (subject: FFF). Include your first and last name. One winner will be picked at random and contacted. Contest ends Wednesday November 5th, 2008 at noon.