Fun Fun Fun Fest 2008 – (some of) day two in photos
Kyle Dean Reinford
If not obvious by the 2008 Fun Fun Fun Fest coverage so far, I was having the most fun (fun fun) over the weekend with all the punk, metal and hardcore on stages 3a and 3b (two connected stages to avoid long times between sets). Highlights and pictures from day one are HERE. Highlights of day two (9/9) were DOA, Frightened Rabbit, the ska punk, politics and crowd of Leftover Crack, Cro-Mags (jam) (John Joseph w/ one of Cro-Mags' past drummers, AJ from Leeway on guitar and Craig Setari of Sick of it All on bass), what I saw of St. Vincent and Black Angels, the vegan sausage pizza, and Bad Brains. I managed to catch a few songs of Islands who sounded great, but totally missed Spinto Band and Annuals. Also saw pieces of Kevin Seconds, Chuck Ragan, and Ben Nichols's solo-frontmen sets. Saw Black Joe Lewis and most of Trash Talk, but neither lived up to my expectations in the daytime festival setting. I went back and forth between the pre-headliner sets of Minus the Bear and Bouncing Souls, and ran over to watch one song of Clap Your Hands Say Yeah during a Bad Brains reggae segment. Despite the competition, CYHSY still pulled in a respectable sized crowd. The stages were far enough away in general, but I could also still hear Alec Ounsworth's unmistakable voice at times between Bad Brains songs depending on where I was standing (I watched Bad Brains from various areas throughout their set). Clipse were headlining on the stage farthest away from Bad Brains so I totally missed them, and Kool Keith, who played that same stage earlier. Bad Brains ended earlier than curfew which meant I got to run over and catch about 20 minutes of Tim and Eric which was a great way (laughing) to end the hectic two day fest.
One unfortunate aspect of the weekend was the dust. It was a problem at ACL this year too. Dry dirt and wind meant you were constantly breathing it in. A signifigant portion of the crowd was wearing bandanas or other gas mask-like things on their faces. I didn't, but I should have because I think it made me a little sick. More pictures from day two below...


Kevin Seconds of 7 Seconds...
Revival Tour (Chuck Ragan of Hot Water Music, Ben Nichols of Lucero & Tim Barry of Avail)...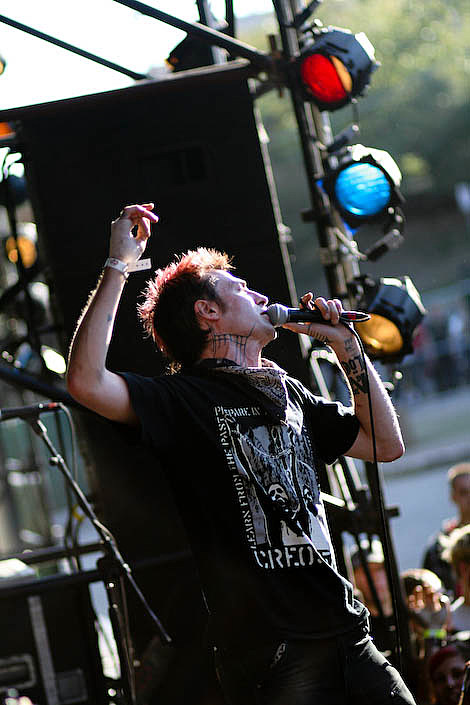 Clap Your Hands Say Yeah...
Tim and Eric Awesome Show...