Fun Fun Fun Fest 2008 lineup – Nov 8-9 in Austin, Texas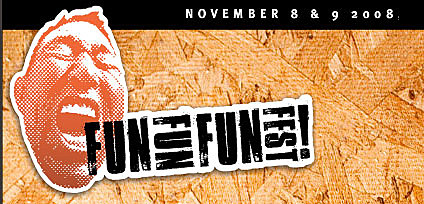 AUSTIN, TX - Transmission Entertainment is proud to announce this year's Fun Fun Fun Festival line-up. In the tradition of years past, FFF08 once again teams punk rock legends with the hottest indie buzz bands, crowd-pleasing dance and hip-hop acts, and cutting-edge comedians. Fun Fun Fun Fest will be held November 8 and 9 at Waterloo Park in downtown Austin, TX. A two-day pass will be $59.99, available through FrontgateTickets.com. Children under 10 get in free and discounts will be made available to all students.
Clap Your Hands Say Yeah, The National, Magnetic Morning, Clipse, Walter Schreifels, Flipper, Bad Brains, ALL, Dead Milkmen, St Vincent, Deerhoof, Trail of Dead, and Dan Deacon are just some of the many bands on the four stage bill....

Appearing at Fun Fun Fun Fest 2008:
Stage 1:
Clap Your Hands Say Yeah, The National, Atmosphere, Minus The Bear, St. Vincent, Trail of Dead, Deerhoof, Rival Schools, Islands, The Annuals, Bishop Allen, Centro-matic, Sleepercar, Frightened Rabbit, Spinto Band,
Parts and Labor, Colourmusic, Experimental Dental School, 27, Till We're Blue or Destroy...and more!

Stage 2:
Shearwater, Tim Fite, Magnetic Morning (Adam Franklin of Swervedriver, Sam Fogarino of Interpol), The Revival Tour w/:
Chuck Ragan (of Hot Water Music), Tom Gabel (of Against Me!), Ben Nichols (of Lucero), Tim Barry (of Avail), Kevin Seconds (of 7 Seconds), The Tim and Eric
Awesome Show, The Cynics, Ugly Beats, El Paso Hot Button, Walter Schreifels (of Quicksand,
Rival Schools, GB, YOT), Coldtowne Comedy Hour, Pepi Ginsberg, Altercation Punk Rock Comedy Hour, and Frank Smith....and more!

Stage 3:
Bad Brains, ALL, Dead Milkmen, Flipper, Adolescents, Integrity,
Bouncing Souls, Swingin Utters, DOA, Killdozer, Cro-mags (jam), Scared of Chaka (Dave from The Shins), Young Widows, Leftover Crack, Trash Talk, World Burns to Death, Krumbums, Mammoth Grinder, Cute Lepers, Bitter End, High Tension Wires, Born to Lose

Stage 4:
Clipse, Z-trip, Dan Deacon,
Yacht, Grupo Fantasma, Kool Keith/Dr. Octagon, Dengue Fever, Brownout, Franki Chan, Toxic Avenger, Hawnay Troof,
Starlynx, Richard Henry....and more!
I haven't been to Fun Fun Fun Fest yet, but "Mess With Texas" (the combined force of Fun Fun Fun Fest and F Yeah Tour/Fest's Sean Carlson) was in the same park during SXSW this year and it was a great time, also with a great lineup with a similar aesthetic (punk + indie + comedy).