Funeral Pyre & Early Graves touring, Mutilation Rites shows
by BBG
The Funeral Pyre at SXSW (more here)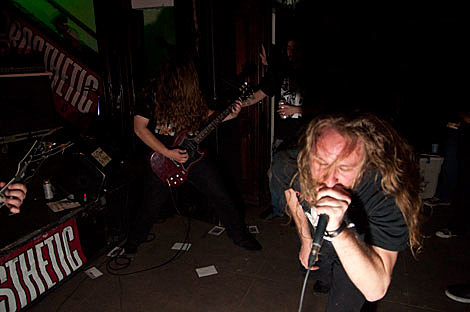 With their new LP Vultures At Dawn due on June 8th via Prosthetic Records, blackened death-dealers The Funeral Pyre will hit the road with the crushing hardcore combo Early Graves for a string of dates that will include a BV/1000 Knives show at Union Pool on 7/17 with upstart black-metal killers Mutilation Rites.
Meanwhile, Mutilation Rites has a few other dates on their calendar including June 1st at Public Assembly when the band will team up with Australian BM badasses Nazxul (who are playing MDF this weekend) and New England's Witch Tomb. The show kicks off at 8PM and $15 gets you in.
June 20th will see Mutilation Rites at Europa with a killer bill of bands including At War, Midnight (who are playing the the Punk Island Festival that day), Deathrash, Crucifist (also playing Punk Island), and Mutant Supremacy. Tickets are on sale.
Both Mutilation Rites and Mutant Supremacy played Party Expo on 5/25 with Cannabis Corpse.
Early Graves are currently streaming the title track from their forthcoming LP Goner, at their myspace. Harsh, pissed off hardcore of the 1000MPH sort, Goner impresses me more with every listen. Make sure and pick the LP up when it drops on June 22nd and get out to see the band on July 17th. Seriously badass.
Vultures at Dawn is The Funeral Pyre's fourth LP since their inception in 2003. Check out a track, "Personal Exile" streaming at Metalsucks. The band recently played SXSW, tagging both the BV/1000 Knives/Crustcake Pizza Party on 3/18 as well as the Prosthetic Showcase the night before.
Dig on the show flyer, all dates and some videos below...


The Funeral Pyre @ Reno's Chop Shop

The Funeral Pyre - Here the Sun Never Shines

Early Graves Live April 2009

Early Graves "Goner"

THE FUNERAL PYRE, EARLY GRAVES - 2010 TOUR DATES
Jun 4 2010 The CYC Fresno, CA
Jun 5 2010 The Blvd - Record Release Show! los angeles, california
Jun 25 2010 The Ruby Room San Diego, CA
Jun 26 2010 Yayo's las vegas, Nevada
Jun 27 2010 Nile Underground Mesa, AZ
Jun 28 2010 Skrappy's Tucson, Arizona
Jun 30 2010 Zen Meister Bar El Paso, Texas
Jul 1 2010 Reno's Chop Shop Dallas, Texas
Jul 2 2010 Zombies San Antonio, Texas
Jul 6 2010 The Black House Nashville, Tennessee
Jul 7 2010 Skull Alley Louisville, Kentucky
Jul 9 2010 Cara Bar Columbus, Ohio
Jul 13 2010 Dover Brickhouse Dover, New Hampsh
Jul 14 2010 Anchors Up Haverhill, Massachuse
Jul 16 2010 Asbury Lanes Asbury Park, NJ
Jul 17 2010 Union Pool Brooklyn, New York
Jul 18 2010 Belvedere's Pittsburgh, Pennsylvan
Jul 19 2010 The Black Cherry Toledo, Ohio
Jul 21 2010 Fubar St. Louis, Missouri
Jul 23 2010 The Manor Omaha, Nebraska
Jul 24 2010 Blastomat Denver, Colorado
Jul 25 2010 Ernie November Cheyenne, Wyoming
Jul 26 2010 Burts Tiki Lounge Salt Lake City, Utah
Jul 27 2010 Brawl Studios Garden City, Idaho
Jul 29 2010 The Morgue Seattle, Washington
Jul 30 2010 PLAN B Portland, Oregon
Jul 31 2010 The Jinx Bellingham, Washington