GAG on tour, playing NYC tonight w/ Shoxx (last show ever); Chicago's Violent End playing NYC next week (dates, streams)
Shoxx at The Acheron, June 2012 (more by BBG)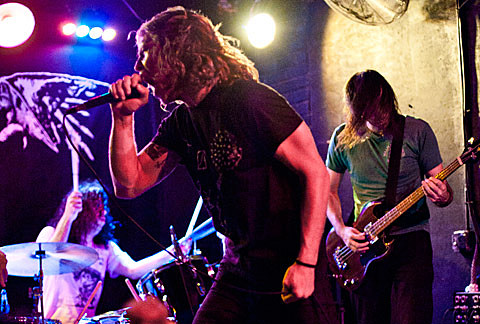 Olympia, Washington's GAG is a hardcore punk force to be reckoned with, and the band are  currently in the midst of a lengthy US tour that, as mentioned in today's What's Going On post, lands tonight (10/8) at Fitness at 1196 Myrtle Avenue with locals Shoxx, Goosebumps, Pleasure Industry and newcomers to the scene IVY (not to be confused with the NYC pop band of the same name). GAG brings the fury -- check out a video below for a preview of what is sure to be a nuts show. All GAG tour dates are in this post.
It will also be the last-ever show for the short-lived Shoxx (whose drummer, Elser Nino, also plays in Merchandise), so make sure to head over if you want to see them one last time. Also, check out a relatively recent track from Goosebumps below.
Meanwhile, Brooklyn newcomers Pleasure Industry are playing another wild show on Wednesday (11/13) at Death by Audio with Chicago's Violent End (a new band featuring members of Raw Nerve, Vile Gash, and Manipulation), Brooklyn's Brain Slug and New Brunswick punks Razorheads.
GAG, Ivy and Pleasure Industry tour dates are listed, along with streams, below...
GAG - 2013 tour dates
11/8 New York, NY @ Fitness w/ Shoxx (last show), Goosebumps, Pleasure Industry, Ivy
11/9 Boston, MA @ The Boiler Room w/ Flaccid, 2x4, White Line Fever
11/10 Western Mass
11/11 Quebec City, QC
11/12 Montreal, QC @ The Concrete Cage w/ Smile
11/13 Ottawa, ON
11/16 Toronto, ON @ Hard Luck w/ Iron Age, Boston Strangler, The Repos, Weekend Nachos, Concrete Asylum, Wrong Generation
11/18 Buffalo, NY @ Garys Glitterbox w/ Tied Down, Fleshy Mounds, Sperm
11/19 Pittsburgh, PA @ gooskis w/Druglust
11/20 Columbus, OH @ TBA w/ Drug Probem
11/21 Indianapolis, IN
11/22 Chicago, IL @ Rancho Huevos w/ Krang, Distract, Tensions, Need
11/23 Chicago, IL @ Moustrap w/ Gas Rag, Culo, Rash
11/24 Madison, WI @ The Vault w/ Tenement, Mellow Harsher
11/25 Minneapolis, MN @ House of the Lard w/ Zero
11/26 Omaha, NE @ The West Wing w/ Pisswalker
11/27 Kansas City, MO @TBA w/ Condition, Nuke Cult, Shapeshifter, No Master
11/29 Denver, CO @TBA w, Condition
11/30 Salt Lake City, UT
12/1 Boise, ID @Lake Destiny w raid, and ID
12/2 Spokane, WA
12/3 Olympia w/ Dream Decay
Pleasure Industry - 2013 tour dates
11/15 Lulu's w/WET BRAIN, UGLY PARTS, Aggressive Response
11/18 Lulu's w/Nuke Cult, Dirty Work, Scab Eaters
Ivy - 2013 tour dates
11/08 @ 11 96 Myrtle Ave w/ GAG, Shoxx, Goosebumps, Pleasure Industry
12/14 @ 538 Johnson Ave, Apt. 201 w/ World Domination (W Mass), Drug Lust (PGH), Ajax (first show)