Gang Gang Dance announce Brooklyn show w/ New Moods (who played BVSXSW — pics & dates)
Timothy S. Griffin
New Moods @ Swan Dive (BrooklynVegan Day Party)

New Moods, who are opening the Music Hall show, killed it during their noon set at Swan Dive at the BrooklynVegan day party on Saturday during SXSW (they went on right before Oh Land on the same stage). They actually had a bigger crowd than Baths who was playing on the bigger stage outside at the same super early time, I think because as people walked in the front door, they were sucked in by the "a precise and raucous four-piece" with captivating back and forth vocals by the intense Billy Jones (I first became a fan when he fronted Other Passengers and then got to know him through his work at Sin-e and then Pianos) (he has also since written for this site on occasion) and also-solo artist Melati Malay (she also plays in Young Magic who recently signed to Carpark). The band is rounded out by Gang Gang Dance engineer Sean Maffucci and drummer Steve Garofano. You can listen at their bandcamp, and you can see pictures from their set in this post.
More of those pictures, the rest of Gang Gang Dance's tour dates and stuff, below...

--
New Moods @ Swan Dive....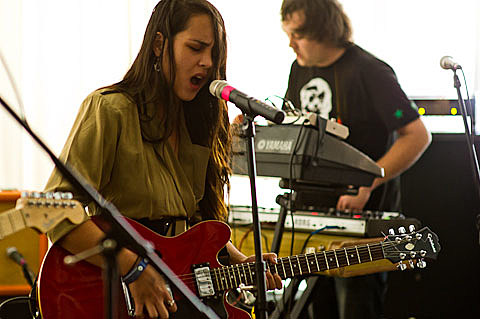 Gang Gang Dance - Glass Jar

GANG GANG DANCE - 2011 TOUR DATES
9th Apr - Dazed Live @ Village Underground, London
4th May - Music Hall of Williamsburg, Brooklyn, NY w/ New Moods
11th May - Ruby Lounge, Manchester
12th May - Pavillion Theatre @ Great Escape, Brighton
13-15th May - ATP Festival, Minehead
16th May - XOYO, London
17th May - Point Ephemere, Paris
18th May - Rotunde @ Les Nuits Botanique, Brussels
19th May - Melkweg, Amsterdam
21st May - HAU, Berlin
23rd May - Vega, Copenhagen
25th May - Stall 6, Zurich
26th May - Magnolia, Milan
15th - 17th July - Chicago, IL Pitchfork, Festival