Garbage played Webster Hall (pics, setlist)
www.distortionfilms.com
photos by Dana (distortion) Yavin
Temptress, lover, sufferer, scrapper -- those have been Ms. Manson's personae since Garbage started in 1995. In other eras she might have been a pop torch singer, a soul belter or a new-wave frontwoman: a Shirley Bassey, a Dusty Springfield, a Chrissie Hynde. There's a little of each of them in her voice.
But in the mid-1990s rock was pushing darker thoughts and heftier beats. Garbage's drummer, Butch Vig, had produced the grunge spearhead, Nirvana's 1991 album "Nevermind"; Nine Inch Nails had emerged with its blend of dance-music electronics and dire hard rock. Garbage rode both approaches to million-selling albums.
Songs like "Stupid Girl" used pop structures as they seesawed between electronics and power chords, while Ms. Manson exulted in goth-girl depressiveness or vengeful bluntness. But by the early 2000s pop had moved elsewhere, and Garbage's solid songwriting met diminishing returns.
Yet the old songs were memorable enough to draw loud singalongs more than a decade later. And on "Not Your Kind of People" Garbage returns without attempting some major makeover; at Webster Hall a handful of new songs fit easily alongside the older ones. [NY Times]
Garbage's tour stopped in NYC for a show at Webster Hall on Tuesday (5/22), kicking off an unofficial '90s week here in New York, what with Afghan Whigs and that dog. in town too. Shirley Manson doesn't seem to have lost any power over her audience. Garbage have the night off tonight but play Atlantic City, NJ on Friday (5/25). A list of all tour dates is below, along with lots more pictures from Tuesday night including some of the magician (!) who opened the show, and one of Garbage's setlist.

---
Apollo Riego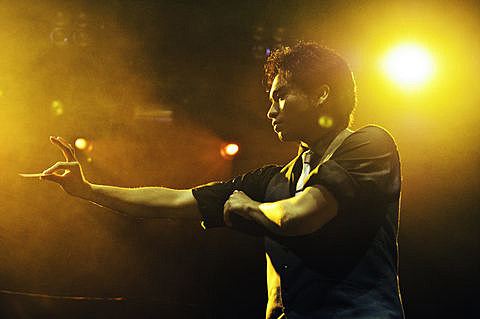 Garbage
Garbage - 2012 Tour Dates
May 25: Atlantic City, NJ, House of Blues
May 26: Boston, MA, Paradise Rock Club - SOLD OUT
May 28: Toronto, ONT, Phoenix Concert Theater - SOLD OUT
June 1: Santa Barbara, CA, KJEE Summer Round Up, Santa Barbara Bowl
June 2: Mountain View, CA, Live 105 BFD, Shoreline Amphitheater
June 3: San Diego, CA, 91x X-Fest, Cricket Wireless Amphitheater
June 9: Warsaw, Poland, Orange Warsaw Festival
June 11: Samara, Russia, Rock on Volga Festival
June 12: Odessa, Ukraine, Prosto Rock Festival
June 16: Hultsfred, Sweden, Hultsfred Festival
June 17: Aarhus, Denmark, Northside Festival
June 19: Amsterdam, Netherlands, Melkweg Max
June 22: Neuhausen ob Eck, Germany, Southside Festival
June 23: Scheessel, Germany, Hurricane Festival
June 24: Paris, France, Solidays Festival
June 27: Luxembourg, Rockhal
June 28: Werchter, Belgium, Rock Werchter
June 29: Arras, France, Main Square Festival
July 1: London, UK, Brixton Academy
July 2: Wolverhampton, UK, Civic Hall
July 3: Manchester, UK, Manchester Academy
July 4: Glasgow, UK, Barrowlands
July 6: Bucharest, Romania, B'Estfest
July 8: Herouville St Clair, France, Festival Beauregard
July 11: Vigevano, Italy, 10 Giorni Suoanti Festival
July 12: Rome, Italy, Fiesta Capannelle Roma Rock
July 14: Bilbao, Spain BBK
July 15: Aix-les-Bains, France, Musilac
July 17: Arles, France, Les Escales du Cargo Festival
July 19: Oporto, Portugal, Mares Viva Festival
July 21: Nyon, Switzerland, Paleo Festival
July 22: Carhaix, France, Festival Vieilles Charrues
August 4: Montreal, QUE, Osheaga Festival
August 7: Chicago, IL, Metro - SOLD OUT
August 8: Kansas City, MO, Buzz Under the Stars
August 11: Omaha, NE, Maha Festival, Stinson Park
August 18: Osaka, Japan, Summer Sonic Festival
August 19: Tokyo, Japan, Summer Sonic Festival
November 22: Paris, France, Zenith de Paris
November 25: Brussels, Belgium, AB
November 26: Cologne, Germany, E-Werk
November 27: Berlin, Germany, Astra