Gary Numan played The Pleasure Principle @ Best Buy Theater w/ Rasputina & Boom Boom Satellites (pics, setlist)
photos by Greg Cristman
[Gary Numan]'s stop in New York to promote "The Pleasure Principle Tour 2010" marks the 30th anniversary and re-issue of his groundbreaking album, which he is performing in its' entirety. Written when he was a mere 21 years old, The Pleasure Principle debuted in 1979 but only charted Stateside a year later. Propelled by the monumental single, "Cars", the album was a watershed as disco yielded to new wave and power pop...
Not content to stand idly in front of his instrument, Numan took every opportunity to move and thrash about; though for the duration of the performance of The Pleasure Principle he seemed content to let the music wash over the crowd. And they soaked it up, bouncing and singing along to songs like "Films" and "M.E.". As the album is only 41 minutes in length, it was a short time to the highly anticipated performance of the ubiquitous "Cars" and Numan did not disappoint. The Pleasure Principle concludes with "Engineers" and in spite of the poignant darkness of the lyrics ("All that we know/Is hate and machinery") the crowd cheered wildly as Numan gracefully expressed his gratitude with a beaming nod. -[Consequence of Sound]
Numan was supported by Rasputina and Boom Boom Satellites (who recently played Irving Plaza) at the sold-out Best Buy Theatre in Times Square Saturday night (10/23). The NYC show was part of an ongoing tour. Gary performs the full album each night.
More pictures from NYC, with Gary's setlist (nine songs after the album included), below...


Rasputina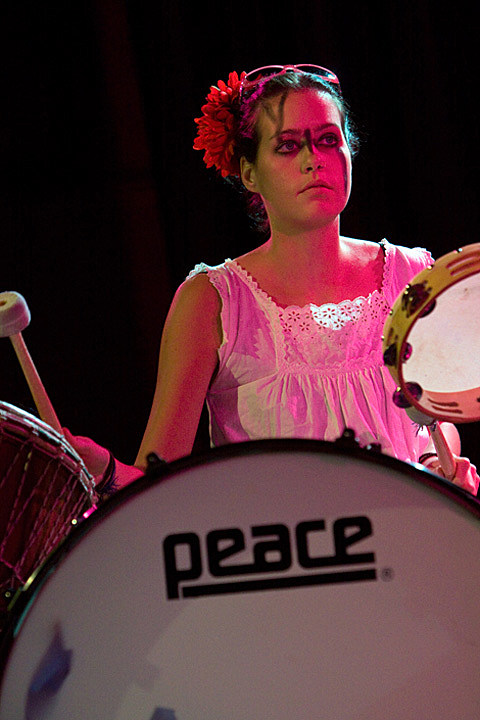 Boom Boom Satellites
Gary Numan
Setlist:
The Pleasure Principle:
Random
Airlane
Metal
Complex
Films
M.E.
Tracks
Observer
Conversation
Cars
Engineers
--
The Fall
Pure
Down in the Park
Haunted
Halo
BLEED
Are Friends Electric?
Encore:
I Die You Die
Prayer For The Unborn