Gates of Slumber & Zoroaster – Studio pics, MP3s, tour dates
© Justina Villanueva
words by Black Bubblegum, photos by Justina Villanueva
DOWNLOAD: The Gates Of Slumber - "The Bringer of War" (MP3)
DOWNLOAD: Zoroaster - "White Dwarf" featuring Brent Hinds of Mastodon (MP3)
DOWNLOAD: Serpentcult - "The Weight Of Light" (MP3)
DOWNLOAD: Zoroaster - "Brazen Bull" (MP3)
DOWNLOAD: Zoroaster - "Bullwhip" (MP3)
DOWNLOAD: The Gates of Slumber - "Ice Worm" (MP3)
DOWNLOAD: The Gates of Slumber - "Trapped In The Web" (MP3)
"North America is", or rather WAS, "Doomed" when the tour of the same name rolled on through NYC, hitting Studio at Webster Hall on August 9th. Packed with the mind-melting lineup of Zoroaster, The Gates of Slumber, and Serpentcult, the trio are closing up the final days of the campaign. Zoroaster and The Gates of Slumber will meet again in the very near future though, as part of the Planet Caravan Fstival in North Carolina along with a veritable all-star line up of doom heavyweights.
The Gates of Slumber's new LP, Hymns Of Blood & Thunder is due on 9/29/09 via the mighty Rise Above Records. Dig on the tracklisting below and the first taste of the LP, "The Bringer Of War", above!
Zoroaster are also scheduled to join Gojira and Burst for a few dates surrounding Gojira's appearance on the Metallica tour. Those dates include Music Hall of Williamsburg on 9/21 (tickets here). The tour is part of Burst's farewell tour (which is also their first US tour).
Following Zoroaster's US dates, the Atlanta band will hit Europe for a gang of dates with Absu, Nachtmystium, and Razor of Occam. To the outsider, this may seem like an odd match for Zoroaster (three bands of black metal descent, and Zoroaster, who are clearly more in the doom vein) unless you keep in mind that Black Judd of Nachtmystium issued Zoroaster's first LP and EP via his Battle Kommand imprint.
More pictures from the Studio show, and all dates, below...Pictures and dates below...

Serpentcult
The Gates of Slumber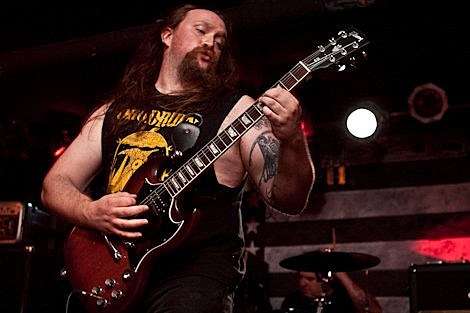 Zoroaster
THE GATES OF SLUMBER - 2009 TOUR DATES
Aug 12 2009 Peabody's Cleveland, Ohio^
Aug 13 2009 Ravari Room Columbus, Ohio^
Aug 14 2009 The Emerson Theater Indianapolis, Indiana^^
Sep 19 2009 PLANET CARAVAN FESTIVAL Asheville, North Carolina
Oct 17 2009 HAMMER OF DOOM II Würzburg Posthalle Würzburg
Oct 21 2009 The Frontline GENT
Oct 23 2009 The Borderline LONDON, London and South East
Oct 24 2009 DAMNATION FESTIVAL -- UNIVERSITY OF LEEDS UNION LEEDS, Midland
^ w/ ZOROASTER, SERPENTCULT
^^ W/ DEMIRICOUS, ZOROASTER, SERPENTCULT, APOSTLE OF SOLITUDE, COFFIN WORM
THE GATES OF SLUMBER - Hymns Of Blood & Thunder
1.) Chaos Calling
2.) Death Dealer
3.) Beneath the Eyes of Mars
4.) The Doom of Aceldama
5.) Age of Sorrow
6.) The Bringer of War
7.) Descent Into Madness
8.) Iron Hammer
9.) The Mist in the Mourning
10.) Blood and Thunder
ZOROASTER - 2009 TOUR DATES
Aug 11 2009 Howler's Cafe Pittsburgh, Pennsylvania%
Aug 12 2009 Peabody's Cleveland, Ohio%
Aug 13 2009 Ravari Room Columbus, Ohio%
Aug 14 2009 Emerson Theater Indianapolis, Indiana%
Aug 15 2009 Yokums Pavillon "Potomac Highlands Metal Fest" Seneca Rocks, West Virginia
Sep 18 2009 Mo Daddy's "Planet Caravan Festival" Asheville, North Carolina
Sep 20 2009 The Sterling Hotel w/ burst Allentown, Pennsylvania
Sep 21 2009 Music Hall of Williamsburg Brooklyn, New York$
Sep 22 2009 Ottobar w/ gojira, burst Baltimore, Maryland$
Sep 24 2009 Masquerade atlanta, Georgia$
Sep 25 2009 The Hangar new orleans, Louisiana$
Sep 26 2009 Rock Bottom San Antonio, Texas^
Sep 27 2009 Warehouse Live Houston, Texas$
Sep 28 2009 Club Dada Dallas, Texas^
Sep 29 2009 Red 7 Austin, Texas^
Oct 1 2009 Big Daddy's Tallahassee, Florida^
Oct 2 2009 The Social Orlando, Florida$
Oct 5 2009 Valarium Knoxville, Tennessee$
Oct 6 2009 The Dojo Indianapolis, Indiana^
Oct 7 2009 Rave Bar Milwaukee, Wisconsin$
Oct 8 2009 Blondie's Detroit, Michigan^
Oct 9 2009 The Pearl Room Mokena, Illinois$
Oct 16 2009 Steinbruch Theater Darmstadt*
Oct 17 2009 Turock Essen*
Oct 18 2009 Markthalle Hamburg*
Oct 19 2009 The Rock Copenhagen*
Oct 19 2009 The Rock Copenhagen*
Oct 20 2009 K17 Berlin*
Oct 21 2009 Z-Bau Nürnberg*
Oct 22 2009 Conne Island Leipzig*
Oct 23 2009 K19 Kassel*
Oct 24 2009 Exit Chmelnice Prague*
Oct 25 2009 Durer Kert Budapest*
Oct 26 2009 Arena Wien*
Oct 27 2009 Gala Hala Ljubljana*
Oct 28 2009 Feierwerk München*
Oct 29 2009 Spazio 211 Turin*
Oct 30 2009 Dynamo Werk 21 Zürich*
Oct 31 2009 Glazart Paris*
Nov 1 2009 Rock City Nottingham*
Nov 2 2009 Moho Live Manchester*
Nov 3 2009 Underworld London*
Nov 4 2009 Academy 2 Dublin*
Nov 5 2009 White Rabbit Plymouth*
Nov 6 2009 JH De Klinker Aarschot*
Nov 7 2009 Watt *
% w/ The Gates of Slumber. Serpent Cult
* w/ Absu, Nachtmystium, Razor of Occam
$ w/ Gojira, Burst
^ w/ Burst