Gayngs played MHOW, Daytrotter & Fallon (pics & video), Glasser adds a NYC show (and other dates)
Much like they did the night before at Bowery Ballroom, Gayngs played a NYC show with Glasser last night (10/4) at Music Hall of Williamsburg, and covered Sade (and George Michael). The multi-member group, which started with 23 members but became 10 for this tour, includes band leader Ryan Olson, Justin Vernon (Bon Iver), Ivan from the Rosebuds, and members of Megafaun (and opener Glasser). Pictures from the Brooklyn show are in this post, as is the video of their appearance on Late Night with Jimmy Fallon which happened last night too. They played "The Gaudy Side of Town" for what was probably the first and last time they ever appear on TV...
Express Night Out: How does the 10-piece compare to the full ensemble?
Ryan Olson: It's way tighter musically. We had two days to practice with 23 people and make that shit gel. It's starting to feel like a band right now which is really fun. It's ridiculously fantastic, over-the-top fun.

Express Night Out: You've been emphasizing that this isn't a real band.
Ryan Olson: It's kind of more like a surreal band. It won't ever happen again.
Gayngs also recently laid down some tracks for Daytrotter, including "The Gaudy Side of Town", the Sade cover, and others. Grab those.
Meanwhile Glasser has a just-announced headlining show of her own on the way. The chanteuse will make an appearance at Music Hall of Williamsburg on 11/16. Tickets go on AMEX presale at noon on Wednesday (10/6) with regular sale kicking off at noon two days later.
More Glasser dates, the Jimmy Fallon video, and more pictures from MHOW are below...

--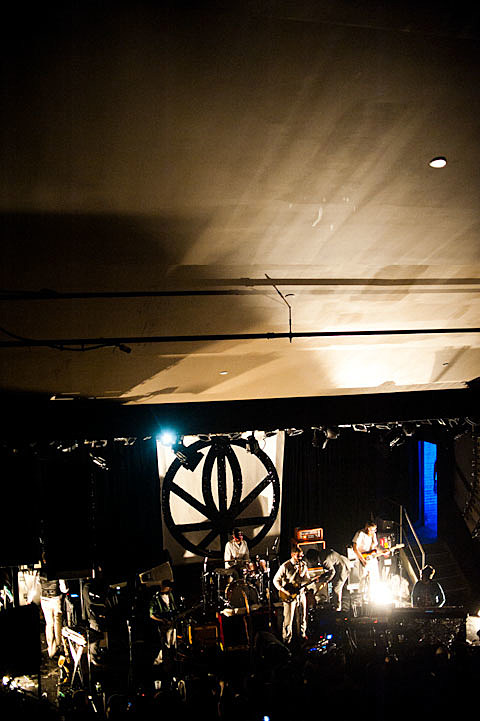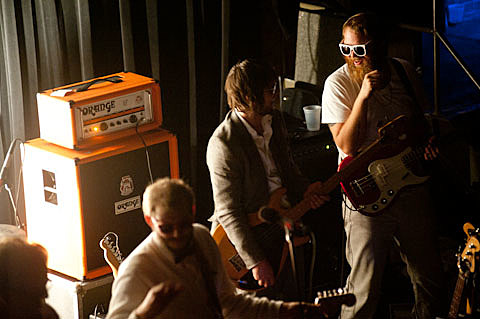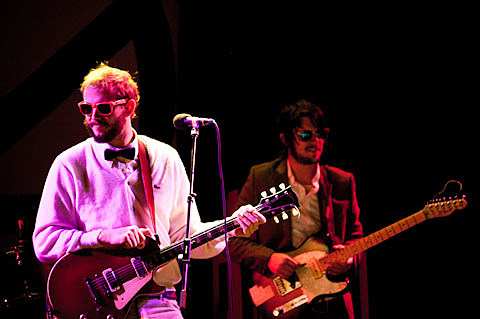 Gayngs on Late Night with Jimmy Fallon, 10/4/10

GLASSER - 2010 TOUR DATES
Oct 5 2010 With Gayngs at Black Cat Washington, DC
Oct 6 2010 With Gayngs at Cat's Cradle chapel hill, nc
Oct 10 2010 Rough Trade east London, London and, UNITED KINGDOM
Oct 11 2010 Macbeth London, UK, UNITED KINGDOM
Oct 13 2010 Le Point Ephemere Paris, FRANCE
Oct 17 2010 Club Privat berlin, GERMANY
Nov 3 2010 Troubadour with TEEN INC. West Hollywood, CA
Nov 4 2010 Popscene San Francisco, CA
Nov 6 2010 Holocene with Pains of Being Pure at Heart Portland, Oregon
Nov 7 2010 The Crocodile Seattle, WA
Nov 10 2010 Il Motore with Twin Shadow Montreal, Quebec, CANADA
Nov 11 2010 Drake Hotel with Twin Shadow Chicago, IL
Nov 12 2010 Pike Room with Twin Shadow Pontiac, MI
Nov 16 2010 Music Hall of Williamsburg, Brooklyn, NY