Gene Clark tribute @ MHOW in pics & review (PART 1) — Robin Pecknold (Fleet Foxes), Daniel Rossen (Grizzly Bear) & more
Robin Pecknold / Daniel Rossen @ MHOW 1/25/2014

Gene Clark's 1974 solo album, No Other, was dismissed by critics at the time as being bloated and overproduced but in recent years has become a lost classic. So taken with it were Andy and Victoria of Beach House, they spearheaded a tour to recreate the album live with a host of their Baltimore musician friends (plus some notable non-Baltimore friends to sing lead), and a chorus of singers. The short tour they put together hit Brooklyn's Music Hall of Williamsburg over the weekend for sold-out shows on Saturday (1/25) and Sunday (1/26). We're got three sets of pictures from these shows -- two from Saturday and one from Sunday -- the first of which is in this post.
I was at the Saturday show. I'm not sure how many people were there because they loved No Other and how many people thought, like, Beach House might play a few of their songs, but certainly by midpoint in the show the crowd was fully on-board. After an excerpt of Gene Clark documentary The Byrd Who Flew Alone, Bella Union's Mark Byrne came out to introduce the evening and how things would be working. The album was played in order, with Fleet Foxes' Robin Pecknold opening the night with lead vocals on "Life's Greatest Fool." When the harmonies kicked in about a minute into the song -- courtesy Jenn Wasner (Wye Oak), Victoria Legrand (Beach House), Tony Drummond (Celebration) and Cricket Arrison -- Clark's orchestral vision blossomed to life. Robin would also sing "Strength of Strings" a few songs later.
Next up was onetime Fairport Convention singer/guitarist Iain Matthews who has long championed Clark and was the only one to play guitar while singing (he also played as part of the band). Matthews was also the only one to really talk about Clark, mentioning that sales of No Other have gone up 4000% since the announcement of this tour. He sang "Silver Raven" and would come out later for "True Love."
Daniel Rossen of Grizzly Bear probably was the best vocal match to Clark, both having a similar husky, dusky quality. His lead on No Other's grandiose, rocking title track was maybe the highlight of the evening, and returned to sing "Some Misunderstanding."
The Walkmen's Hamilton Leithauser made his first appearance on "Form a Silver Phial" and though one associates him a cigarette hoarse style of singing, the softer side of his vocals were on display here, though he looked no less intense doing so. He also closed out No Other with the lovely "Lady of the North." The band -- which included members of Celebration, Beach House, Lower Dens, Cass McCombs' band, Mt. Royal and others -- did a fantastic job, definitely no half-assed "let's try this" kind of thing.
Once the album proper was played and a brief intermission, the band returned for three songs. The Byrds' "Feel a Whole Lot Better" saw Pecknold, Rossen and Leithauser trading verses; Victoria Legrand had a moment in the spotlight taking lead on "Hear the Wind" from Clark's 1977 solo LP, Two Sides to Every Story, and the evening finished with a psyched-out version of "Eight Miles High." This was a knockout show.
More pics of Saturday night's show can be found HERE and pictures from Sunday are HERE. More pics from this first set from Saturday below...

--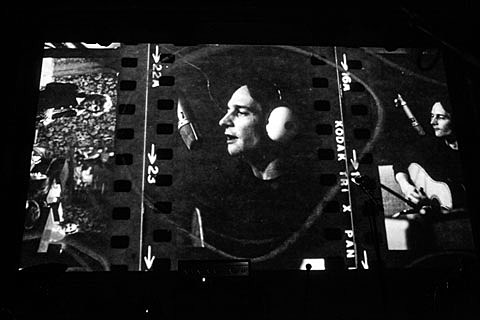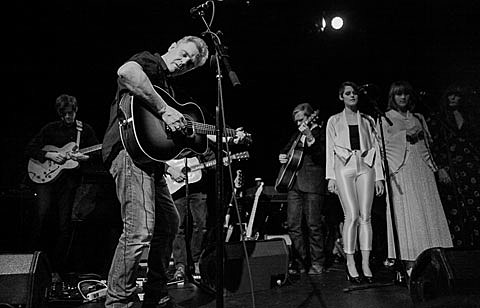 SETLIST: The Baltimore Gene Clark No Other Band @ MHOW 1/25/2014
No Other
1. Life's Gretest Fool - Robin Pecknold
2. Silver Raven - Iain Matthews
3. No Other - Daniel Rossen
4. Strength Of Strings - Robin Pecknold
5. Form A Silver Phial - Hamilton Leithauser
6. Some Misunderstanding - Daniel Rossen
7. True One - Iain Matthews
8. Lady Of The North - Hamilton Leithauser
"Feel a Whole Lot Better" with all four taking verses
"Hear the Wind" with Victoria Legrand
"Eight Miles High"
The singers:
Iain Matthews (Fairport Convention / Plainsong)
Robin Pecknold (Fleet Foxes)
Daniel Rossen (Grizzly Bear)
Hamilton Leithauser (The Walkmen)
The Chorus
Jenn Wasner (Wye Oak)
Victoria Legrand (Beach House)
Tony Drummond (Celebration)
Cricket Arrison
The band:
Steve Strohmeier (Chris Cohen, Cass McCombs, Beach House) - Lead Guitar
Walker Teret (Lower Dens, Cass McCombs, Celebration) - Acoustic Lead
Geoff Graham (Lower Dens, 13 Falls) - Acoustic Two
Alex Scally (Beach House) - Bass
Dominic Matar (Carloman) - Piano
Sean Antanaitis (Celebration) - Organ/Synths/Guitar
Mike Lowry (Mt. Royal) - Drums