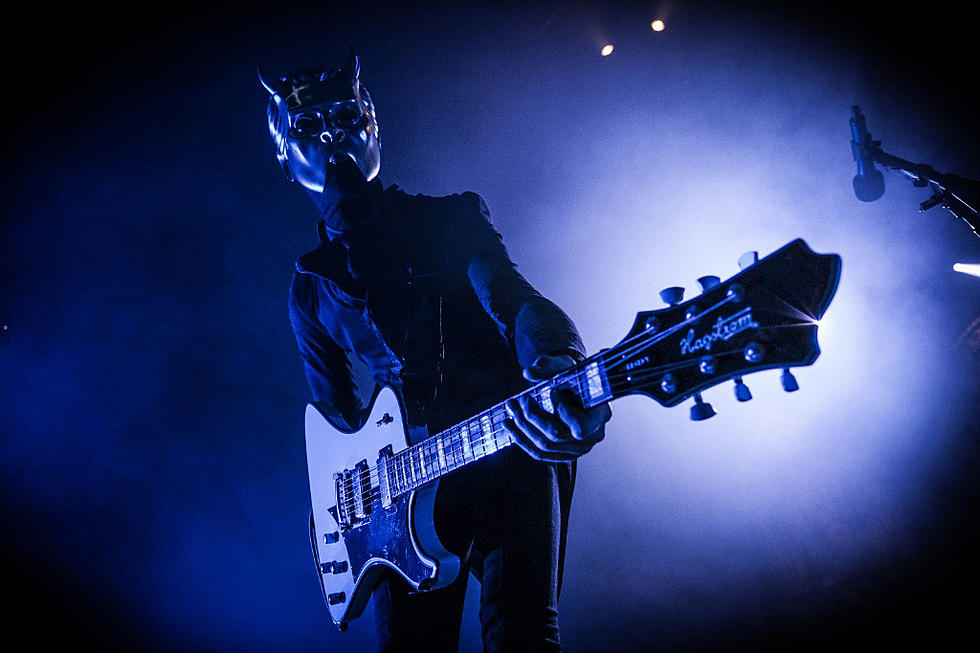 Ghost played Barclays Center (pics, videos, setlist)
photo by Mathieu Bredeau
Grammy-nominated occult rockers Ghost continue to get very famous, and they brought their tour behind this year's Prequelle to NYC for their first-ever arena show here, at Barclays Center, on Saturday (12/15). As Consequence of Sound's review points out, they didn't quite fill the arena (the upper bowl was closed), but they had plenty of command over it:
And with that, Ghost proved they can command an arena, albeit a modified setup that didn't include the upper bowl. Still, there were a good 7,500 or so people there who were truly captivated by Cardinal Copia and company.
They played a large chunk of songs from Prequelle and its 2015 predecessor Meliora, as well as faves from the earlier days, including their cover of Roky Erickson's "If You Have Ghosts." It was during that song where frontman Cardinal Copia did the "band introductions" (he introduced each member as "Ghoul!"). Pictures of the show are in the gallery above. Videos and the setlist are below.
Ghost at Barclays Center - 12/15/18 Setlist (via)
Act 1:
Ashes
Rats
Absolution
Idolatrine
Ritual
Con Clavi Con Dio
Per Aspera ad Inferi
Devil Church
Cirice
Miasma
Jigolo Har Megiddo
Pro Memoria
Witch Image
Life Eternal
Act 2:
Spirit
From the Pinnacle to the Pit
Majesty
Satan Prayer
Faith
Year Zero
He Is
Mummy Dust
If You Have Ghosts(Roky Erickson cover)
Dance Macabre
Square Hammer