Ghostface played NXNE w/ Raekwon Killer Mike, Action Bronson & more (pics), plays Prospect Park Saturday (free)
photos by David Andrako
Ghost & Rae at Yonge-Dundas Square - 6/17/12

Opening things up with a blazing, pace-setting flourish, Raekwon and Ghostface let loose with a tight four-pack of Wu classics, including "Incarcerated Scarfaces," "Glaciers of Ice" and the timeless "Ice Cream." Feeling right at home in front of their adoring legions, the two seasoned vets paced around the stage like the hip-hop royalty they most certainly are, taking rap fans on a trip through countless and no doubt formative musical memories, with the Iron Man playing it cool for the most part behind a much more animated and engaging Raekwon. The Chef, for his part, took time out from the duo's own rundown of hits to show love to T.Dot compatriot and collaborator JD Era, running through their shared cuts before allowing the local MC to spotlight his own recent radio hit "Mount Olympus" to the joy of many of hometown faithful. [Exclaim]
Wu-Tang Clan members Ghostface & Raekwon teamed up for a free show in Toronto as part of NXNE last weekend in Yonge-Dundas Square. They were supported by a stacked lineup of Killer Mike, Action Bronson, Tre Mission, Tasha the Amazon, and Austin Renfore.
The show happened two days before Action Bronson played a free show in Brooklyn.
You can catch Ghostface in NYC on Saturday (6/23) for a free Prospect Park Show, and again in August for a Wu-Block Party at Highline (8/8) and at Rock the Bells. The latter of those is with Raekwon, who will play his own show in NYC sooner at Best Buy Theater on July 26 with Tyler, the Creator & Earl Sweatshirt (tickets).
More pictures from the Toronto show, part of our growing collection of NXNE 2012 pics, are below...

---
Tasha the Amazon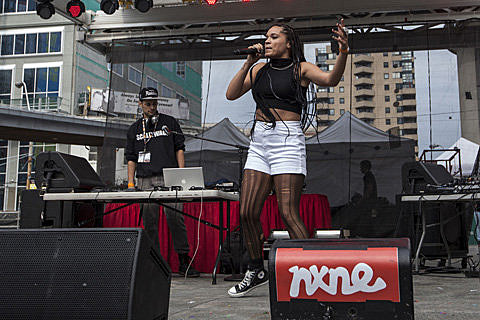 Tre Mission
Action Bronson
Killer Mike
Ghostface and Raekwon