Giant Squid reissue EP (stream it & live footage + an interview)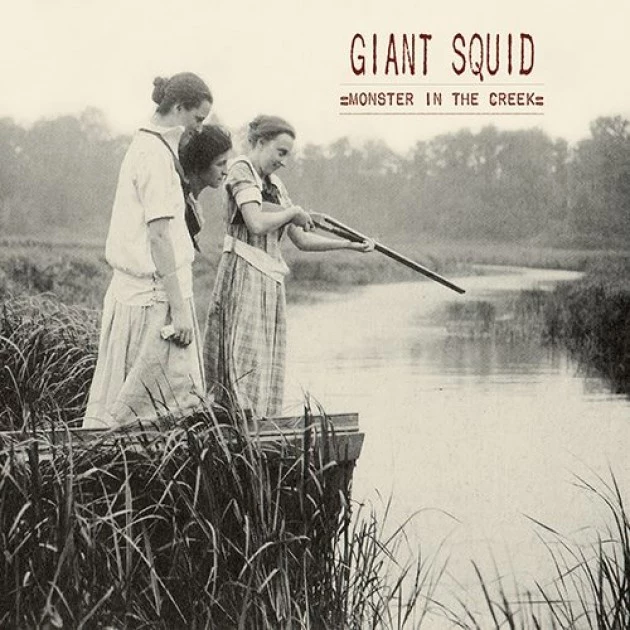 Giant Squid are one of the best -- and most underrated -- metal bands currently plying doomy/sludgy waters. Their 2009 full-length, The Ichthyologist, is one of my favorite albums in the genre. Back in the day, though, Giant Squid's music had a decidedly more indie rock lean.
The band are currently working on their third full-length (with a target release date of spring 2014); to tide fans over, they've re-released their long-out-of-print 2005 EP, Monster in the Creek via their label Translation Loss, as of today (10/29). We're streaming the whole thing plus some never-before-seen live footage of a song from the EP over at Invisible Oranges. We also spoke to GS main man Aaron Gregory about the album. Here's an excerpt from the interview:
"What do you remember about the recording session for this EP?

Looking back, recording with Eric Broyhill was a huge change from our previous experience with Billy Anderson. They're both total bros, but Billy practically feels like a member of the band by the time the record is done, where Eric was much more reserved; so excited about the session for sure, but just a more reserved personality and very methodical. Billy is more like, "Let's record that distorted guitar track four more times on top of itself," and then lights some incense and puts animal skulls throughout the control room. Whereas Eric was a little more concerned with the science of the process -- not in a stiff Albini way by any stretch, but more in a Tape Op Magazine kind of way. He's off setting mics up in distant bathrooms to catch strange room nuances. They're both masters of their trade who have different approaches to get the best recordings out of their bands. Broyhill is more process, Anderson is more vibe.

The other bizarre thing we did is basically track all the instruments live, together, in this huge room. The Hanger was a iconic recording studio in Sacramento, built in what was an old Vets hall at one time. The tracking room is this enormous multi-purpose room where I guess they'd hold town dances or bingo nights. It was big enough to have a basketball hoop, a quarter pipe skate ramp, a really big stage, pianos, and a half-ass tropical cabana.

So all of us were set up in this room, playing together, live, tracking straight to 2" 16-track tape. When it came time to record vocals, we tried doing them kind of old-school country style, with all of us singing facing each other, each with our own mic, but still close to each other. That was the other crazy thing, at least by today's standards; everything was done analog until the final mastering. If we wanted delay on something, we ran the track off the tape, through an outboard Roland tape-delay machine. Sure, some bands still do this, but it was a novelty when we did it, and it's a fucking rarity in today's studios. There's just so much more you can do with Pro Tools.

Ironically, while we tried to be über-organic, we had the strange idea to track the whole thing to a click, which we have rarely done since. It makes for a fairly tight album, but we can personally tell where we're battling it at moments. Definitely helped when sequencing keyboards, though. The click surely became a real source of stress for some of us, and made for a challenging session at times.

What are Giant Squid's recording and touring plans in the near future?

We're halfway through the writing process of our new album, and we even played a couple new tracks at the shows last weekend, though mostly instrumentally, as I always procrastinate on lyrics. We're looking to record our third full-length in January-ish, which we'll announce some point soon. Don't really have details on that actual process though, as money is tighter than ever, and with us having kids, traveling to record won't really be an option. So we're brainstorming. But I can say, the new shit is as different as any of the prior albums are from each other, while still being SO Giant Squid. It's super-heavy, and super-gentle, and about everything else in between. There is as much an Americana vibe as there is an exotic Mediterranean energy to this new stuff. The writing dynamic between Andy and Jackie is pure magic, especially with the vocals. We feel like this will be the album that will make the world finally give a fuck. But if not, the true fans will love it, that's for sure. We're looking to have that out by Spring 2014.

Meanwhile, we're going to do some closer jaunts on the west coast next year, and another fly-out to the northeast so we can hit NY, Philly, and Boston. We'd love to do some small support runs with other bands at some point next year. (Ahem, Ahab, get your asses over here.)"
Read the whole thing over at Invisible Oranges. Stream the EP and check out that live footage below; hopefully we'll get an NYC date announcement soon.

---