Gil Scott-Heron (and Common) @ Central Park Summerstage – pics & video
SummerStage hosted the first of its two shows with Gil Scott-Heron on June 27th at Central Park. A good number of sweaty New Yorkers showed up for an afternoon in the blazing sun with Gil "from up the block," as he put it. For the most part, Gil played with a band comprised of piano, flute/sax, congas, harmonica, and himself on keys or just vocals.
Gil Scott-Heron is equal parts musician, poet and storyteller, so it was appropriate that he started with a long monologue before sitting behind the keys to play a few solo songs. The poet part came in handy when telling stories that would make most musicians blush - like recounting the libidinous origins of the term jazz ("ass and jism music," he says, which may not be so untrue). The set was varied, with clasics like "Winter in America," "Pieces of a Man" and "The Bottle," one cut off the amazing 2010 disc I'm New Here (the bluesy "I'll Take Care of You"), and even a moment for pianist Kim Gordon to play a frantic, Tower-of-Power-esque piece off her forthcoming record (backed by a synth track and congas).
Special guest Common came out to perform his verses on "My Way Home" (from Kanye's Late Registration) and "The People" (off his own Finding Forever), both of which sample Gil. Common took a minute to find his place in the band's lolling chords a bit awkardly before hitting the groove.
Gil was candid and cracked wise about his time in jail, dealing with critics and traveling Europe during the volcano. In an ideal world, we'd get the crushing I'm New Here track "Me and the Devil" paired with "The Revolution Will Not Be Televised" but it's pretty clear that Gil isn't about making perfect worlds.
More pictures and videos from Central Park below...


DJ Brainchild...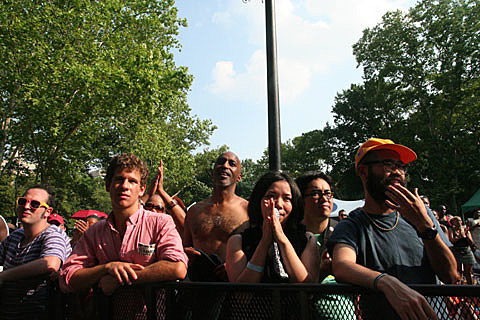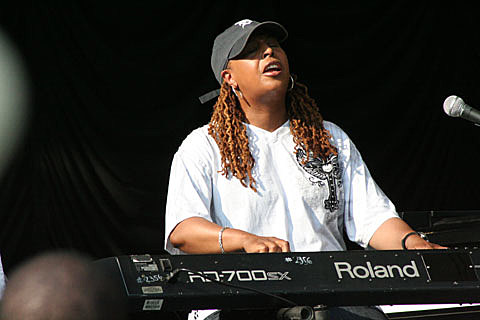 Common at SummerStage with Gil Scott-Heron

Gil Scott-Heron, Winter In America, Central Park Summerstage, NYC 6-27-10 (HD)