Girl Talk & Penguin Prison played Wellmont Theater (pics), Max Tundra & Junk Culture playing Brooklyn & releasing stuff
Girl Talk @ Wellmont Theater

Girl Talk completed the first leg of his current tour at Wellmont Theater in Montclair, NJ Saturday night (2/5) (one night after Lauryn Hill played the same venue). Penguin Prison opened the show, like they did on previous dates. Pictures from that show are in this post.
Now on a slight break, Greg Gillis will launch the second leg of his tour at Terminal 5 in NYC on 2/24. The show is sold out.
Opening all Girl Talk dates from 2/24-3/25 are both Max Tundra and Girl Talk's Illegal Art label-mate Junk Culture, both of whom will first play their own smaller show at Glasslands in Brooklyn on 2/23 with Nite Club and George & Jonathan. Tickets are on sale. All tour dates are listed below.
Junk Culture released "Summer Friends" this week. The full 5-song tracklist is listed below. Download two of the tracks for free above now.
"Oxford Mississippi native Deepak Mantena of creative pop-project Junk Culture developed the sound for his newest release, Summer Friends, from a lifetime collection of sounds he'd captured on a handheld recorder. Drawing on inspiration he found in the vibrant harmonies, psychedelic noises and dance rhythms that saturated his environment, he created alluring melodies using guitar, keyboard, and percussion and topped them off with choruses of his own explosive vocals. Experimenting with recording and sampling the symphony of sounds from his everyday life left him filled with a sense of freedom and a revived faith in the process of making music; the warm euphoric tunes he emerged with reflect a compelling range of influences that include everything from west-coast style pop to hip-hop mash-ups and raw punk-informed electronic dance tunes." [PR]
Max Tundra doesn't have a new release, but has been busy in the studio creating one. Meanwhile he is giving away a new track in the form of a Rockford Files theme song remix (grab that above). He has also recently released remixes for Marnie Stern, Abe Vigoda, Chilly Gonzales, Tune-Yards, Kele and others. Listen to those remixes below.
More pictures from the NJ Girl Talk show, all tour dates, and a pair of time lapse videos from the show in DC are also below...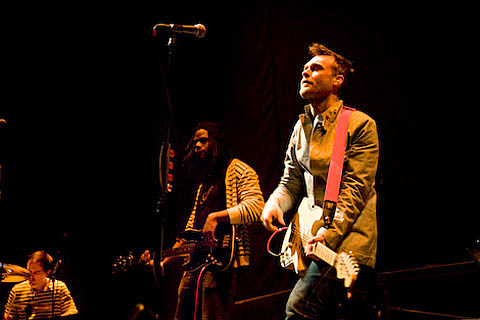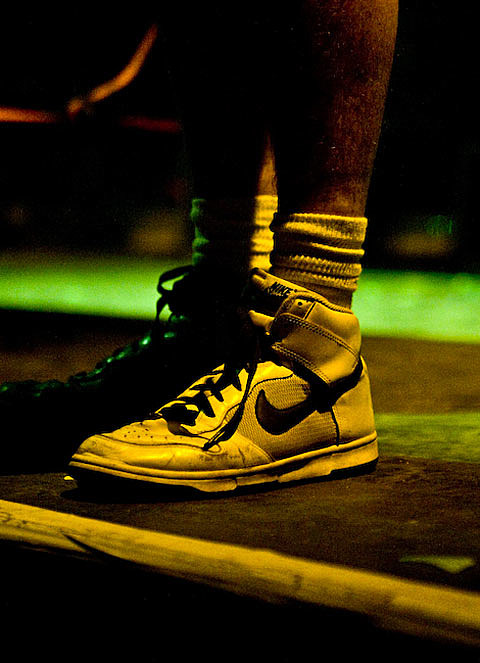 Girl Talk - Washington DC 2011 part 1

Girl Talk - Washington DC 2011 part 2

Junk Culture
Summer Friends
(Illegal Art)
Street Date: Feb. 01, 2011
1. Summer Friends
2. Honeysuckle
3. Weird Teenage Vibes
4. Golden Girl
5. Cozy Only
6. Blissed Out
Girl Talk - 2011 Tour Dates
Thu 02/24/11 Terminal 5 New York NY *
Fri 02/25/11 Lupos Heartbreak Hotel Providence RI *
Sat 02/26/11 House of Blues Boston Boston MA *
Mon 02/28/11 State Theatre Portland ME *
Tue 03/01/11 Metropolis Montreal PQ *
Thu 03/03/11 Compuware Sports Arena Plymouth MI *
Fri 03/04/11 Congress Theater Chicago IL *
Sat 03/05/11 Congress Theater Chicago IL *
Mon 03/07/11 Orpheum Theatre Madison Madison WI *
Tue 03/08/11 First Avenue Minneapolis MN *
Wed 03/09/11 First Avenue Minneapolis MN *
Fri 03/11/11 Ogden Theatre Denver CO *
Sat 03/12/11 Ogden Theatre Denver CO *
Mon 03/14/11 The Wilma Theatre Missoula MT *
Tue 03/15/11 Showbox Seattle WA *
Wed 03/16/11 Showbox Seattle WA *
Thu 03/17/11 Roseland Theater Portland OR *
Fri 03/18/11 Fox Theater Oakland CA Max Tundra
Sat 03/19/11 The Fox Theatre Pomona CA *
Mon 03/21/11 Hollywood Palladium Los Angeles CA *
Tue 03/22/11 Soma San Diego CA *
Wed 03/23/11 Marquee Theatre Tempe AZ *
Fri 03/25/11 The Pool - The Cosmopolitan Las Vegas Las Vegas NV *
Sat 05/28/11 Summer Camp Chillicothe IL
* w/ Max Tundra, Junk Culture