Girl Talk played Sasquatch (pics), playing JellyNYC Pool Party
"Now this was THE dance party of the weekend. The set started with dozens of fans on the stage dancing, and about an hour of almost non-stop music followed. For those not familiar, Girl Talk is Gregg Gillis, a DJ who just does crazy mashups -- and people love it. The set at the Wookie Stage was way crowded, and not a soul was still.

It was just great to hear how Gillis could somehow fit in classic riffs like Weezer's "Say It Ain't So" or GNR's "Sweet Child of Mine" with all kinds of rap beats or hooks. It was great to hear the crowd scream and holler whenever a sample of something they recognized came on, then sing along at the top of their lungs (who knew "Jessie's Girl" worked well with dance beats?)." [Ear Candy]
This summer he'll be back for something much larger, much more public, outdoors, and totally free (I think). Girl Talk will be playing the "Pool Party" at Williamsburg Waterfront on Sunday, August 23rd. And (I think) the openers are Max Tundra and Wiz Khalifa.
After this post, I'll be updating the master list of shows taking place at the same venue this summer. More GT tour dates and pictures from Sasquatch below...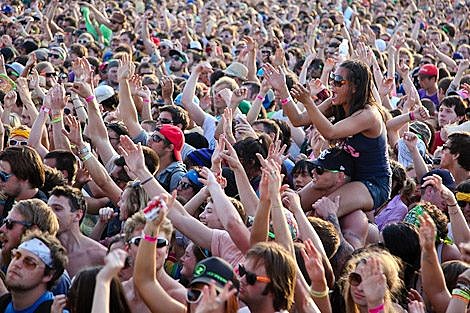 More pictures from this year's Sasquatch Fest, HERE.
Girl Talk - 2009 Tour Dates
May 29 - Mountain Jam Festival Hunter, New York
Jun 12 - Bonnaroo Music Festival Manchester, Tennessee
June 19 - The Grove of Anaheim *
Jul 2 - Rothbury Festival Rothbury, Michigan
Jul 11 - Quebec City International Summer Festival Quebec City, Quebec
July 24 - The Fox Theatre (Pomona) *
Jul 25 - Wanderlust Music Festival Lake Tahoe, California
Aug 1 - Osheaga Festival Montreal, Quebec
Aug 7 - Summer Sonic Festival Tokyo, Tokyo
Aug 23 - Williamsbgurg Waterfront, Brooklyn, NY ?????
Oct 4 - Austin City Limits Austin, Texas
* admission: must bring 36 or more empty cans of Squirt to be donated to Cans for Causes benefitting Habitat for Humanity of Greater Los Angeles