Girls played Terminal 5 with Real Estate & King Krule (pics, setlists & some new tour dates)
"Awesome show at Terminal 5 tonight. Real Estate being followed up by Girls was amazing! #imnotahipster" - Ryan DeVoe
"girls at terminal 5 was amaaazing. excellent band, excellent backup vocals, excellent denim pencil skirt" - Eileen Tang
"Girls and Real Estate just blew up Terminal 5. Brilliant!!!" - Bianca Ahmadi
Girls @ Terminal 5

Girls played their largest NYC show yet (an understatement) on Saturday (1/14) when they headlined the sold out Terminal 5 with Real Estate and King Krule. Girls, with their flowers and trio of female backup singers in tow (like they had at their Bowery Ballroom shows), played almost the entire Father, Son, Holy Ghost, in addition to cuts from Album and the Broken Dreams Club EP.
Real Estate only played material from the recently released Days, save for "Fake Blues," from their debut album, and a cover of jangly post-punkers Felt's "Sunlight Bathed the Golden Glow," which if you didn't know was a cover, could have easily passed as a b-side off Days.
With their new albums, Girls and Real Estate are becoming some of the fastest growing bands in indie, but opener King Krule (and Girls' True Panther labelmate) doesn't seem too far behind them. His set at the T5 show was just after he had played sold out shows at Glasslands and Mercury Lounge earlier that week. His feedback seems pretty positive but the twitterverse seems to agree that his set was suffering from bad sound at Terminal 5. Review and pics of the Mercury Lounge show HERE and Glasslands pics HERE.
More pictures and setlists from the Terminal 5 show, and a new set of west coast Girls tour dates, below...

--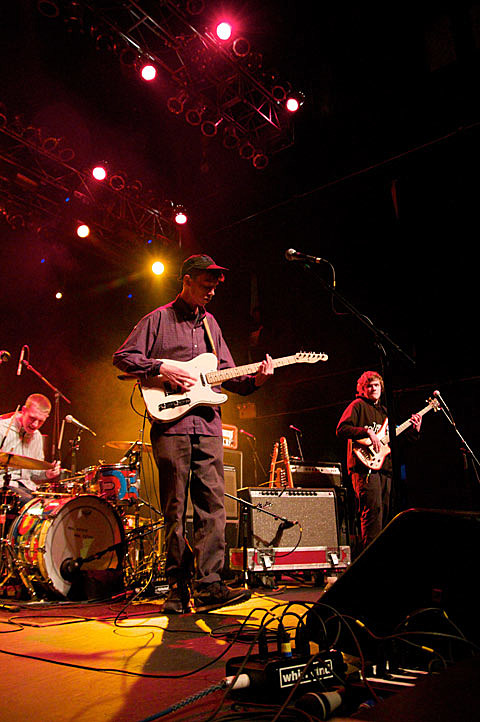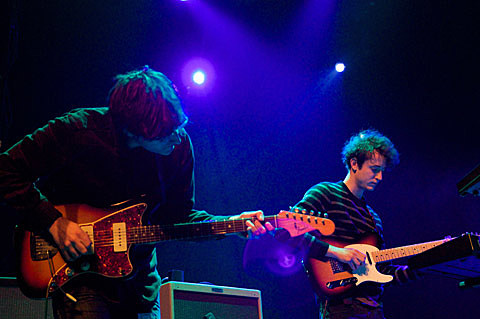 Real Estate Setlist:
Green Isles
It's Real
Wonder Years
Out of Tune
Municipality
Sunlight Bathed the Golden Glow (Felt Cover)
Easy
Fake Blues
All the Same
--
Girls Setlist:
Alex
Honey Bunny
My Ma
Heartbreaker
Laura
Substance
Love Live a River
Broken Dreams Club
Lust for Life
Hellhole Ratrace
Die
Vomit
Magic
Darling
Encore:
Jamie Marie
Saying I Love You
Morning Light
--
Girls -- 2012 Tour Dates
Mar 01 Santa Cruz CA - Coconut Grove*
Mar 02 San Diego CA - Birch North Park Theatre*
Mar 03 Phoenix AZ - Crescent Ballroom
Mar 05 Albuquerque NM - Launchpad*
Mar 07 San Antonio TX - White Rabbit*
Mar 08 Austin TX - La Zona Rosa*
Mar 09 Dallas TX - Granada Theatre*
Mar 12 New Orleans LA - One Eyed Jacks*
Mar 13 Houston TX - Fitzgerald's Upstairs *
Mar 16 Englewood CO - Gothic Theatre*
Mar 17 Salt Lake City UT - In The Venue*
Mar 18 Reno NV - Cargo At CommRow*
Apr 13 & Apr 20 Indio CA - Coachella
*With Unknown Mortal Orchestra