Glue played a bridge twice during SXSW w/ Sheer Mag, Ukiah Drag, Pharmakon & more (pics), playing NY's Alright
Glue on Lamar Pedestrian Bridge - 3/19/15

Like there tend to be in Austin during SXSW, there were a few late shows on the Lamar Pedestrian Bridge last week, two of which included local hardcore band Glue (Thurs 3/19 and Sat 3/21). We caught both of those, and Glue's sets at both were especially apeshit. Whole place was a big mosh pit, and Glue were raw as hell.
The first show had them joined by a typically short and abrasive set from noise/hardcore duo Uniform (ex-The Men, Drunkdriver), a shambolic set from psych punks The Ukiah Drag, and the night ended with the highly-confrontational Pharmakon.
Sheer Mag

The second one had Houston hardcore band Dress Code, who had the place in a similar frenzy to Glue, and punky riff rockers Sheer Mag, who had much of the crowd huddled around the band much like they did in NYC just before SXSW. Pictures of both bridge shows are in this post.
Glue come to NYC soon for New York's Alright, during which they'll play The Wick on April 19 with Dawn of Humans, Heratys, Raw Distractions and Urbanoia. That's a day show (3 PM doors), and tickets are still available.
Sheer Mag also have a NY's Alright show. Theirs is a late one (11 PM doors) at Acheron on April 18 with Vanity, Bad Noids, Tapehead and . Tickets are still available. That's part of their tour, which also includes an opening slot at Ex Hex's sold-out LPR show on 4/23.
Uniform also put out a new song today via Stereogum. Listen to that, plus the ripping "Backwards Society" from Glue's 2014 S/T EP, with more pictures from the bridge shows, below...

---
Glue - "Backwards Society"

Uniform - "Perfect World"

AUSTIN BRIDGE SHOW - 3/19/15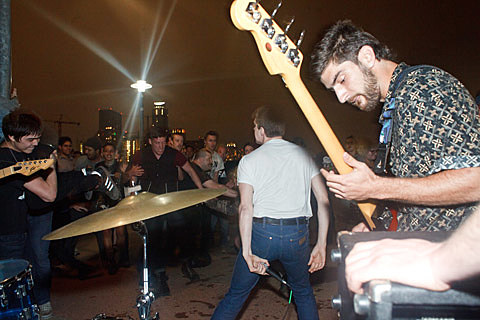 AUSTIN BRIDGE SHOW - 3/21/15