Godflesh played Irving Plaza with Cut Hands and Pharmakon (pics & review)
Gregory R. Cristman
Godflesh @ Irving Plaza 4/10/2014

There is no way I can adequately describe how stoked I was to see the Godflesh tour at Irving Plaza last night (4/10). I was nearly catatonic with frenzy; exhausted from excitement and impatience for the show. Since about 1991, Justin K. Broadrick has been a personal hero of mine. Through all of my musical and personal-stylistic phases, from metalhead to poseur punk to hardcore dork to rude boy to skinhead to motorcycle enthusiast, Justin K. Broadrick and all his various projects are one of the few things I have carried with me lo these many years. My first and only time seeing Godflesh was as a 13 year old, 70 pound, pint-sized mullet head in 1992 at the now-defunct but endlessly important Club Babyhead in Providence Rhode Island. That show was in the days before I even remotely considered wearing earplugs and will go down in history as the loudest, bassiest experience of my life. I remember having to retreat to the back of the room because the bass was vibrating my body so bad I wasn't sure if I'd end up puking or crapping my pants. I regret passing up every subsequent opportunity to see Godflesh, so last night -- which itself was postponed from October -- was years of waiting come to fruition.
Pharmakon

Now that Godflesh is a completely independent entity and no longer bound by the whims and oversight of a label, the two opening acts felt more carefully curated than obligatorily tacked onto the bill. The first opener was Pharmakon, a one woman onslaught of industrial dirge and ear splitting terror. The brainchild of New York City native Margaret Chardiet, Parmakon was a very crowd-polarizing act. Pharmakon plays extremely loud and chaotic beats and textures accentuated by Chardiet's brutal, from-the-guts screams. Some people were clearly not impressed. For me, though, it was a phenomenal experience. I watched her set with my friend Kurt aka Submerged aka the guy who owns and operates OHM Resistance, and we were both floored. She isn't for everybody, but it sure as shit tickled the fancies of me and Kurt. Her set seemed really really short, and when I saw her afterwards I asked why her set was so short and she said she was having some technical difficulties. And that's too bad. I could have listened for hours.
After a brief intermission, the next act up was Cut Hands, a one man electronic act featuring legendary noise master William Bennett. For the uninitiated, Bennett founded Whitehouse in the UK in 1980, a band who was at the forefront of the experimental and noise scene for 27 years before finally disbanding. Although known as a godfather of noise and experimental music, I found his set last night to be extremely cohesive and easy to get hooked into. It was sort of a bastard child of classic-era Underworld with a dash of darkness, violence, and physical abuse. Accompanied by a series of incredible projections, his semi-dancy set had the entire room transfixed and, I don't know, sort of.... dancing? As dancy as a sausage-fest can get I reckon. But people were way into it. I was way into it. The inclusion of Cut Hands by Broadrick was such a great nod to the era when Broadrick was starting to bloom in the Birmingham underground scene with bands like Napalm Death. I feel lucky to have been able to witness such a master at work.
After Cut Hands and what had to be the easiest and fastest stage changeover, two-man sonic powerhouse Godflesh took to the stage. As the house lights dimmed and fog began to rain down from the heavens, Broadrick and Green turned up their guitars and filled the room with a growling, feedback laden wall of sound that lasted for about three minutes. Suddenly a projection appeared at the back of the stage, a programmed cymbal counted off 4 beats and then... KABOOM! Godflesh exploded into one of their most legendary tunes "Like Rats." I thought the place was going to implode.
Let's face it; I am a dork with a penchant for nostalgia. When I say I was anticipating this moment for years, I am not exaggerating. That opening explosion of Like Rats signaled the arrival of one of the most important shows of my life. And the setlist they put together was plucked straight out of my dreams. "Christbait Rising," "Streencleaner," "Spite," "Mothra," "Avalanche Master Song," "Defeated," and "Crush My Soul" all made the playlist of the evening. The technologies the band uses has changed considerably over the 20+ years since I last saw them, but the crossover has not changed Godflesh's signature sound one single iota. Benny Green's bass tone is as crushing as it ever was. All the beats sound exactly as they did all those years ago, and Broadrick's vocals are as devastating as ever. A video of "Like Rats" from last night, plus pictures from the whole night, are below. Unfortunately, Godflesh live is really only adequately experienced... well... live. No video could possibly capture the volume and uber-heaviness of their performance. Last night's show was a flawless triumph. End of story.
If you need more Godflesh, be sure to tune into Invisible Oranges show on East Village Radio this Tuesday (4/15) at 10 PM EDT where they'll air an exclusive interview. In the meantime, more pics and video from Godflesh's Irving Plaza show, below...

---
Pharmakon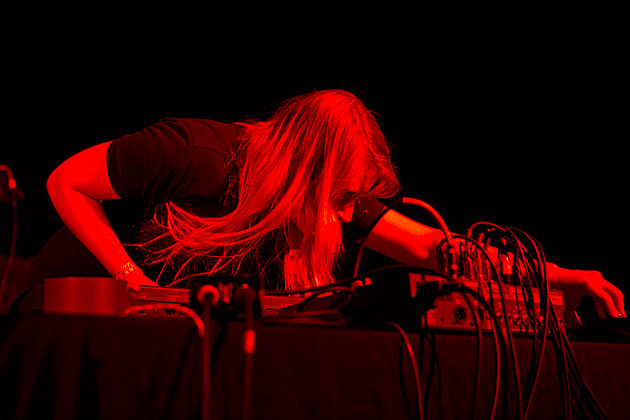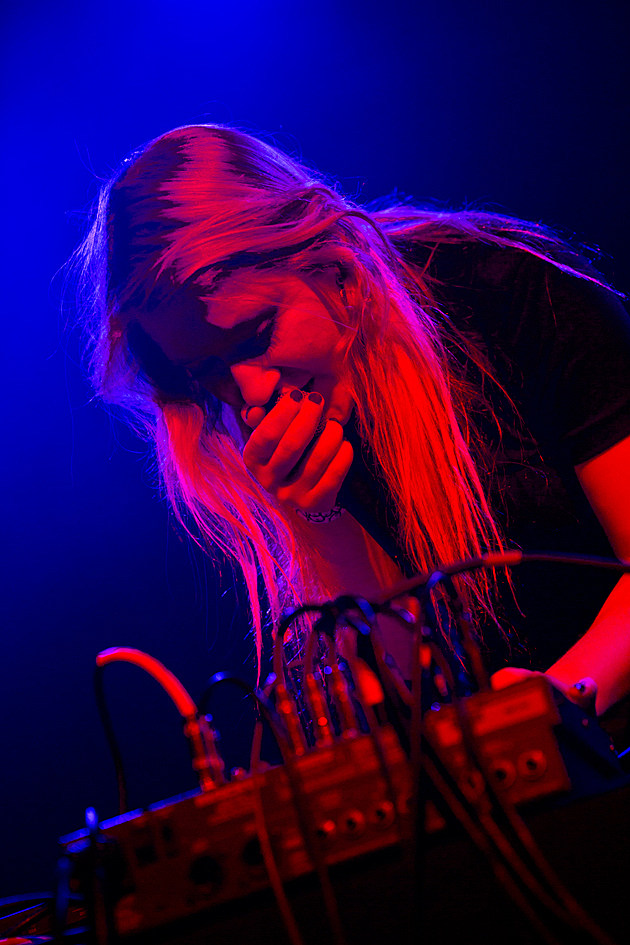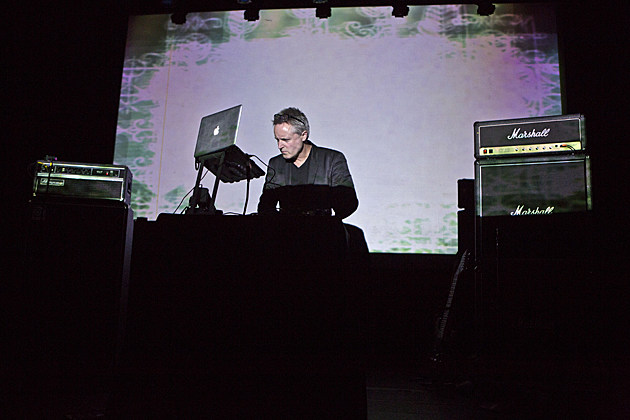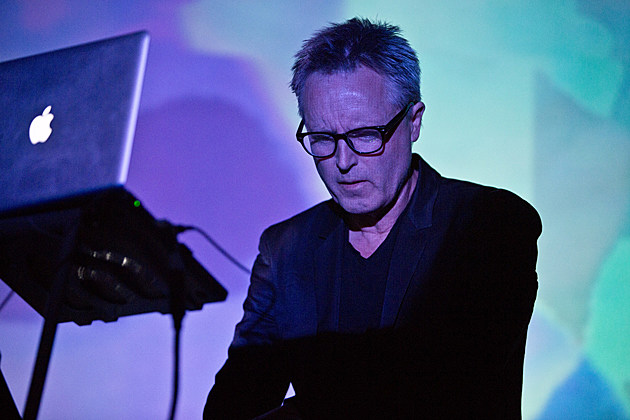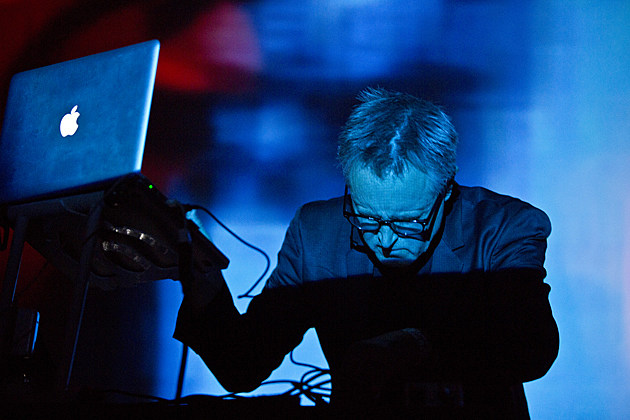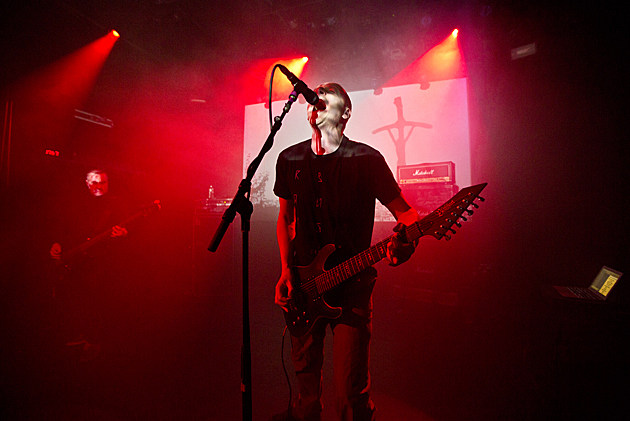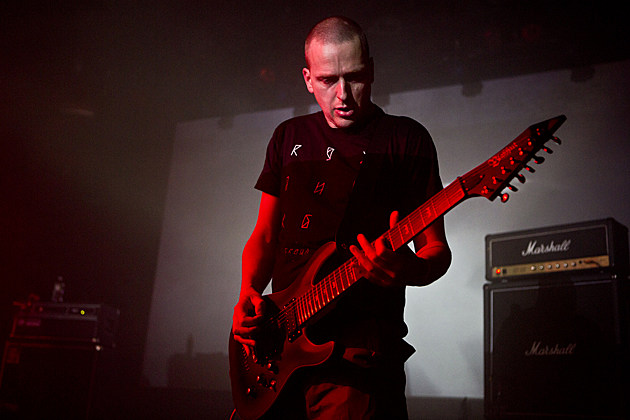 Godflesh - Like Rats @ Irving Plaza