Godflesh, Prurient & Regis played Warsaw (pics & review)
Gregory R. Cristman
Godflesh

Industrial superheroes Godflesh brought their 'A World Lit Only By Fire' tour to Brooklyn's Warsaw on Monday September 15 and presented the audience with a brutal festival of earhole-boring, face melting sonic savagery that still has your man Klaus reeling.
The bill was rounded out with superbly cast support from renowned DJ/producer Regis and noise pioneer Prurient. Regis acted as the pre and post band house DJ and did his thing from the soundboard at the back of the room as opposed to the stage. Regis played a great array of atmospheric, heavy, Final-esque ambient music and acted as a superb bridge throughout the entire show. By not performing on stage, it gave the room a bit of a casual vibe where people could drink and talk to their buddies, all under the cloud of flawlessly crafted ambient doom.
After a nice long period of soaking up the sounds created by Regis, one man noise hurricane Prurient hit the stage and unleashed a staggering display of physical energy and sonic cacophony that almost rattled my teeth out of my head. One of the things I love about Warsaw is that the sound system is not ceiling mounted; the speakers are stacked up from the floor at concertgoer-level on either side of the stage. I found myself standing directly in front of the speakers several times throughout Prurient's set (I move around a lot) and at times the bass was so preposterously heavy that the woofers were actually creating a breeze that you could feel if you were standing close enough to them. Prurient's use of screaming, computer generated noise, feedback, bass, and violent physical contortions create an extremely foreboding and panicky atmosphere. There is no denying Prurient's legend and importance to experimental music, but after a while it was a bit much for me (which is ironic, because I love his recorded material) (I'm weird). I was in the minority though; the closure of his set was met with a deafening wave of applause and cheers.
Following another incredible interlude care of Regis, Justin Broadrick and GC Green sullenly took the stage, grabbed their instruments, turned on their amps, fired up a projection, and, after a few moments of feedback, they tore into "New Dark Ages" from their 2014-released "A World Lit Only By Fire". The one particularly important characteristic of Godflesh is a career-spanning sense of consistency. They disbanded in 2002, got back together 10 years later in 2012, and in 2014 released "A World Lit Only By Fire." I am amazed that after a 10-year hiatus, they managed to produce a work that is so patently and unmistakably "Godflesh" and are still able to put on a show that is as dynamic and solid as when I first saw them in 1992. The material they played off of "A World Lit Only By Fire," including "Deadend," "Shut Me Down," and "Life Giver Life Taker" fit in so perfectly with classics like "Streetcleaner," "Like Rats," "Crush My Soul," and "Christbait Rising." When a band has been around since the late 80s, you sort of dread them rolling out their new material. You just want to hear the classics. But for Godflesh, the classics and the newbies are so sonically consistent that from top to tail the show was an epic masterpiece.
More pictures (none of Regis), a video, and the list of Godflesh's remaining tour dates, below...

---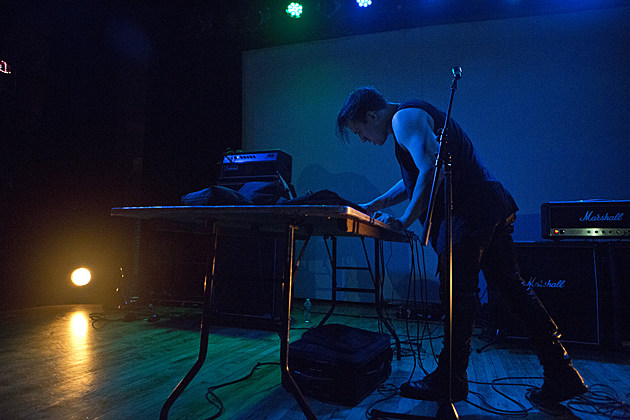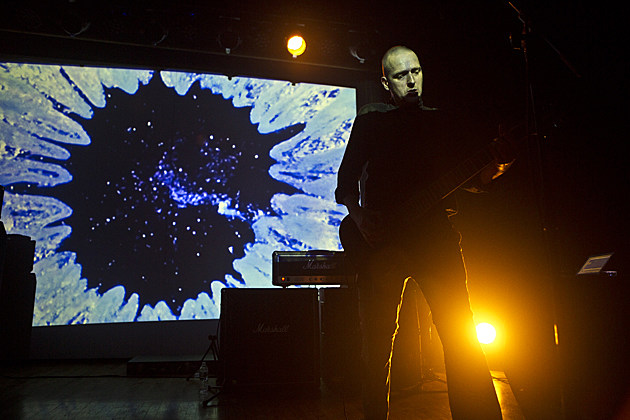 09/16 Philadelphia, PA - Underground Arts*^
09/17 Boston, MA - Paradise Rock Club*
09/18 Montreal, QC - Le National ('Pop Montreal')
09/19 Toronto, ON - Opera House*
09/21 Cleveland, OH - House Of Blues*
09/22 Buffalo, NY - Tralf*
09/23 Pittsburgh, PA - Altar Bar*
09/24 Pontiac, MI - The Crofoot*
09/25 Chicago, IL - Metro (Cold Waves Festival)*
09/27 Seattle, WA - El Corazon*
09/28 Vancouver, BC - Venue Nightclub*
09/29 Portland, OR - Hawthorne Theatre*
10/01 San Francisco, CA - The Independent*
10/02 Los Angeles, CA - El Rey Theatre*
10/03 Pomona, CA - The Glass House*
* - w/ Prurient
^ - w/ Regis