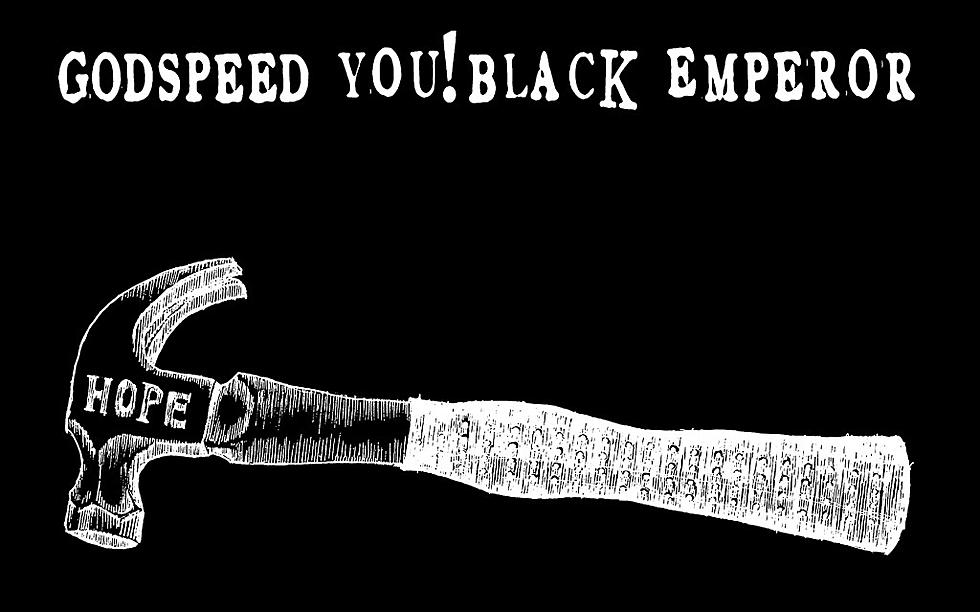 Godspeed You! Black Emperor announce spring/summer tour
Post-rock greats Godspeed You! Black Emperor wrapped up a US tour last week, which saw them bringing their colossal live show to NYC for two nights at Brooklyn Steel. Now they have announced several more tour dates in the US and Canada, running from May through August.
The tour includes a return to the NYC-area for shows at Hudson, NY's Basilica Hudson on August 9 and Asbury Park's House of Independents on August 12. Tickets for Basilica and HOI go on sale Friday (4/6) at 10 AM. All dates are listed below.
Godspeed You! Black Emperor -- 2018 Tour Dates (dd/mm/yy)
10.04.18 Helsinki, FI Circus
11.04.18 Stockholm, SE Vasateatren
12.04.18 Göteborg, SE Pustervik
13.04.18 Oslo, NO Rockefeller
14.04.18 Malmö, SE Slaghusets Teater
15.04.18 Kopenhaven, DE Colossal Weekend @ Vega
16.04.2018 Hamburg, DE Knust
17.04.18 Posnan, PL Tama
18.04.18 Warsaw, PL Klub Palladium
19.04.18 Prague, CZ Archa Theater
20.04.18 Dresden, DE Festspielhaus Hellerau
21.04.18 Tilburg, NL Roadburn Festival
22.04.18 Tilburg, NL Roadburn Festival
24.04.18 Frankfurt, DE Batschkap
25.04.18 Winterthur, CH Salzhaus
26.04.18 Bologna, IT Estragon
27.04.18 Krems, AT Donau Festival
29.04.18 Athens, GR Gazi Music Hall
16.05.18 Pittsburg, PA Mr. Smalls Theatre
17.05.18 Louisville, KY Headliners Music Hall
18.05.18 Kansas City, MO recordBAR
19.05.18 Denver, CO Ogden Theatre
21.05.18 Phoenix, AZ The Van Buren
22.05.18 San Diego, CA Observatory North Park
23.05.18 Los Angeles, CA The Wiltern
24.05.18 Santa Ana, CA The Observatory
25.05.18 Pioneertown, CA Pappy & Harriet's
26.05.18 North Fork, CA Bandit Town
28.05.18 Santa Cruz, CA Rio Theatre
29.05.18 Oakland, CA Fox Theatre
31.05.18 Portland, OR Wonder Ballroom
01.06.18 Portland, OR Wonder Ballroom
02.06.18 Garden City, ID Visual Arts Collective
03.06.18 Seattle, WA Neptune Theatre
04.06.18 Vancouver, BC Vogue Theatre
13.07.18 London, UK The Barbican ("monumental" w/Holy Body Tattoo Dance Company)
14.07.18 London, UK The Barbican ("monumental" w/Holy Body Tattoo Dance Company)
07.08.18 Toronto, ON Phoenix Concert Theatre
08.08.18 Buffalo, NY Asbury Hall at Babeville
09.08.18 Hudson, NY Basilica Hudson
11.08.18 Baltimore, MD Baltimore Soundstage
12.08.18 Asbury Park, NJ House of Independents