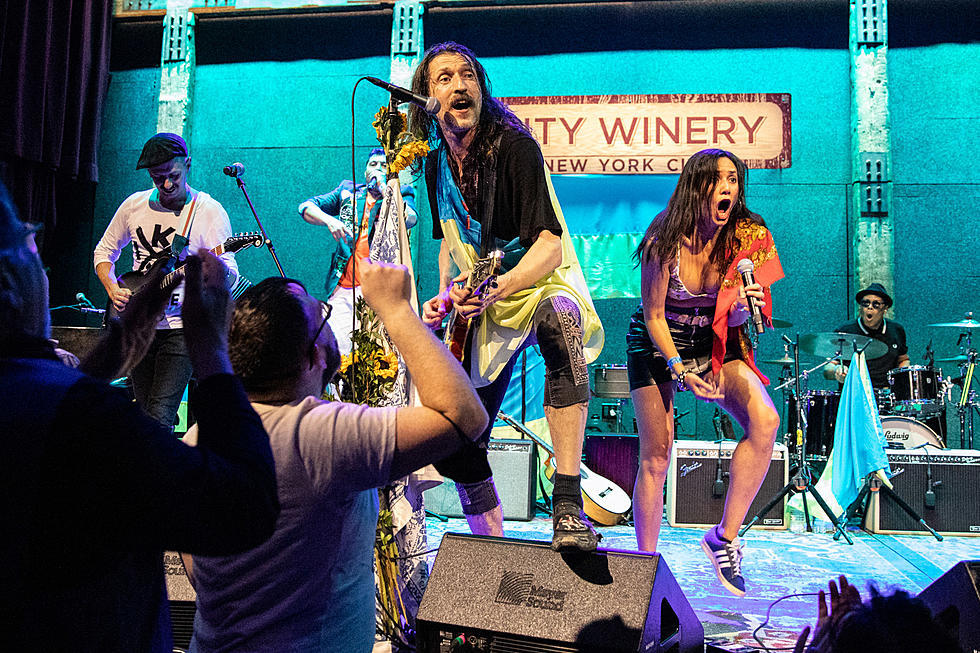 Gogol Bordello playing National Sawdust ++ Q&A with Jim Jarmusch
Gogol Bordello at City Winery, 2022 (photo by Ellen Qbertplaya)
The GRAMMY Museum is presenting a special night with Gogol Bordello on March 6 at National Sawdust in Brooklyn. The night starts with a conversation with bandleader Eugene Hutz and friend and filmmaker Jim Jarmusch, which will be followed by a performance from the band. Tickets are on sale.
The National Sawdust show is just after Gogol Bordello's appearance at the 2023 Tibet House Benefit Concert at Carnegie Hall on March 1, which also has Laurie Anderson, The Patti Smith Band, New Order's Bernard Sumner and Tom Chapman, Arooj Aftab (just added) and more. Tickets are still available.
All dates are listed, along with a stream of 2022's SOLIDARITINE, below.
GOGOL BORDELLO - 2023 TOUR DATES
Wed, Mar 1st '23 - New York, NY - United States - Tibet House Benefit Concert, Carnegie Hall
Mon, Mar 6th '23 - Brooklyn - United States - National Sawdust
Thu, May 25th '23 - Glasgow - United Kingdom - SWG3 Galvanizers
Thu, May 25-28th '23 - Derbyshire - United Kingdom - Bearded Theory
Sat, May 27th '23 - Hatfield - United Kingdom - Slam Dunk Festival – South
Sun, May 28th '23 - Leeds - United Kingdom - Slam Dunk Festival – North
Tue, May 30th '23 - Osnabrück - Germany - Rosenhof
Thu, Jun 1st '23 - Amsterdam - Netherlands - Melkweg (Oude Zaal)
Fri, Jun 2-4th '23 - Bulligny - France - Jardin du Michel Fest
Sat, Jun 3rd '23 - Antwerp - Belgium - De Roma
Sun, Jun 4th '23 - Hamburg - Germany - Markthalle
Wed, Jun 7th '23 - Ulm - Germany - Roxy
Thu, Jun 8th '23 - Berlin - Germany - Huxleys
Fri, Jun 9th '23 - Warsaw - Poland - Stodola
Sat, Jun 10th '23 - Poznań - Poland - Klub Muzyczny B17
Sun, Jun 11th '23 - Krakow - Poland - Studio
Tue, Jun 13th '23 - Frankfurt - Germany - Batschkap
Fri, Jun 16th '23 - Clisson - France - Hellfest Open Air Festival
Sat, Jun 17th '23 - Paris - France - Elysee Montmartre
Sun, Jun 18th '23 - Luxembourg City - Luxembourg - Den Atelier
Tue, Jun 20th '23 - San Gwann - Malta - Aria Complex
Thu, Jun 22nd '23 - Cologne - Germany - Live Music Hall
Fri, Jun 23rd '23 - Odense - Denmark - Tinderbox Festival
Sat, Jun 24th '23 - Ysselsteyn - Netherlands - Jera On Air
Sun, Oct 8-14th '23 - Puerto Plata - Dominican Republic - Destination Chaos