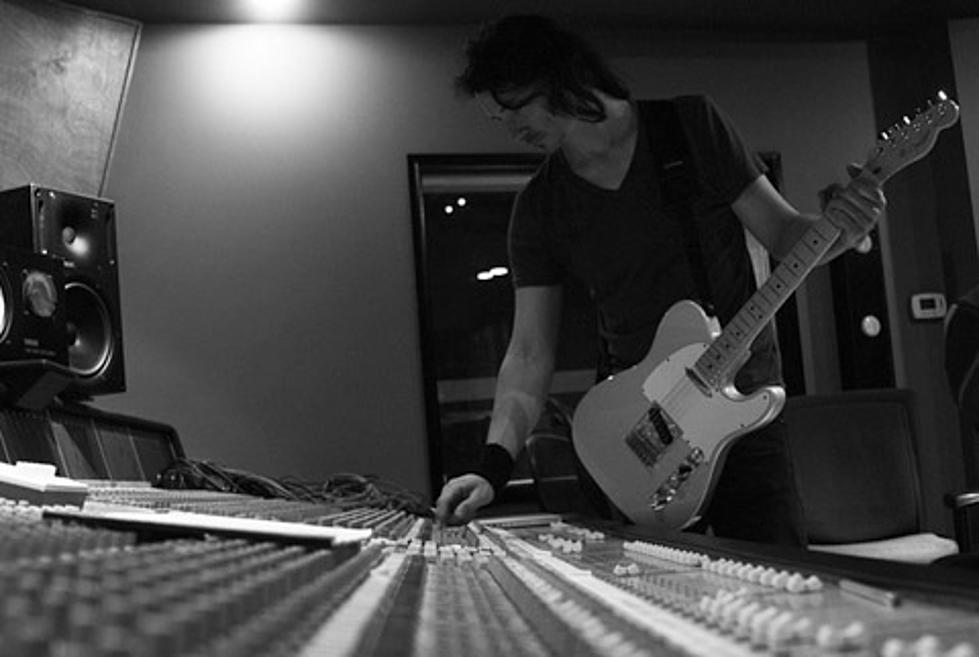 Gojira preparing 'L'Enfant Sauvage', release video for title track
Gojira in the Studio

Gojira returns with their new LP L'Enfant Sauvage, the French band's debut for Roadrunner Records (order yours). Close to four years in the making and due on June 26th, the title track is one of the first tastes of the record to slip past the goalie after recently surfacing at Pitchfork. Now "L'Enfant Sauvage" has been given the video treatment, and is available to watch for the first time below.
Gojira is currently touring the EU but after a month off of the road, they'll embark on a US tour supporting Dethklok and Lamb of God. That tour swings through NYC for a date with Roseland Ballroom on August 29th. Tickets are on sale. The band is also on board to play the Mayhem Festival Cruise on Dec 7 - 10 along with their tourmates Lamb of God, as well as Machine Head, Anthrax, Hatebreed, Kingdom of Sorrow and many more. Full tour dates are below.
The video for "L'Enfant Sauvage" is below, alongside a listing of all tour dates.
GOJIRA - 2012 TOUR DATES
May 23 VALLE HOVEN Oslo, Norway
May 26 GETAFE SONISPHERE Madrid, Spain
May 27 LE PHARE (SUPPORT TO SLAYER) Toulouse, France
May 28 BOUTIQUE Werchter, Belgium
May 29 LA COOPERATIVE DE MAI (SUPPORT TO SLAYER) Clermont-Ferrand, France
May 30 LES RIVES DU LAC Yverdon-Les-Bains, Switzerland
Jun 01 ROCK IM PARK Nuremberg, Germany
Jun 02 ROCK AM RING Wershofen, Germany
Jun 03 URSYNALIA FESTIVAL Warsaw, Poland
Jun 04 KALASATAMA SONISPHERE Helsinki, Finland
Jun 06 OPEN AIR Horsens, Denmark
Jun 08 ROKAJ FESTIVAL Zagreb, Croatia
Jun 09 VAINSTREAM FESTIVAL Münster, Germany
Jun 10 NOVAROCK Nickelsdorf, Austria
Jun 11 NTC Bratislava, Slovakia
Jun 13 PLENEN BERGEN CALLING Bergen, Norway
Jun 15 COPENHELL FESTIVAL Copenhagen, Denmark
Jun 16 METALTOWN Gothenburg, Sweden
Jun 24 GRASPOP FESTIVAL Dessel, Belgium
Jun 25 SHEFFIELD CORPORATION Sheffield, United Kingdom
Jun 26 O2 ACADEMY 2 Birmingham, United Kingdom
Jun 27 ISLINGTON ACADEMY London, United Kingdom
Jun 29 EHZ FESTIVAL Hélette, France
Jul 01 WITH FULL FORCE FESTIVAL Lobnitz, Germany
Aug 01 WAMU THEATER Seattle, WA
Aug 02 QUEEN ELIZABETH THEATER Vancouver, Canada
Aug 04 BIG 4 Calgary, Canada
Aug 05 SHAW CONFERENCE CENTRE Edmonton, Canada
Aug 07 CONVENTION CENTRE Winnipeg, Canada
Aug 09 EAGLES BALLROOM Milwaukee, WI
Aug 10 LC PAVILION Columbus, OH
Aug 11 HEAVY TO Toronto, Canada
Aug 12 HEAVY MTL Montreal, Canada
Aug 14 DELTA PLEX Grand Rapids, MI
Aug 15 FAMILY ARENA St Louis, MO
Aug 19 MIDLAND THEATER Kansas City, MO
Aug 21 CONGRESS BALLROOM Chicago, IL
Aug 22 COMPUWARE ARENA Detroit, MI
Aug 23 STAGE AE Pittsburgh, PA
Aug 24 TWCU AMPHITHEATER Charlotte, NC
Aug 25 CONSTANT CONVOCATION CENTER Norfolk, VA
Aug 26 PIER 6 PAVILION Baltimore, MD
Aug 29 ROSELAND BALLROOM New York, NY
Aug 30 TSONGAS ARENA Lowell, MA
Aug 31 TOYOTA PRESENTS OAKDALE THEATER Wallingford, CT
Sep 01 OUTSIDE AT THE ELECTRIC FACTORY Philadelphia, PA
Sep 02 ASBURY PARK CONVENTION HALL Asbury Park, NJ
Sep 04 HARD ROCK LIVE Orlando, FL
Sep 05 TABERNACLE Atlanta, GA
Sep 07 BAYOU MUSIC CENTER Houston, TX
Sep 08 SUNKEN GARDEN San Antonio, TX
Sep 09 VERIZON WIRELESS THEATER Dallas, TX
Sep 11 FILLMORE AUDITORIUM Denver, CO
Sep 13 COMERICA THEATER Phoenix, AZ
Sep 14 GIBSON AMPHITHEATER Los Angeles, CA
Sep 15 BILL GRAHAM CIVIC AUDITORIUM San Francisco, CA
Dec 07 MAYHEM FESTIVAL CRUISE Miami, FL
Dec 08 MAYHEM FESTIVAL CRUISE Miami, FL
Dec 09 MAYHEM FESTIVAL CRUISE Miami, FL
Dec 10 MAYHEM FESTIVAL CRUISE Miami, FL