Gorilla Biscuits, Bouncing Souls and Turnstile played House of Vans (pics, video setlist)
Gorilla Biscuits / Bouncing Souls / Turnstile @ HoV 7/10/2014

On Thursday (7/10), The House of Vans became the foggiest and most humid locale on earth as they welcomed the Gorilla Biscuits, the Bouncing Souls, and Turnstile to their fourth free bash of the 2014 summer season. The show was very free and the RSVP list was so overbooked that the line to get in stretched from the venue to somewhere in Staten Island, leaving scores of people to be turned away at the door. It blows my mind that in this city and in this day and age I was able to see two of the most legendary hardcore/post-punk bands and double fist decent beer the entire time without ever opening my wallet (except to tip, of course). But that's what House of Vans does, and for that I am forever grateful.
I haven't been to a House of Vans show since the very first summer they started doing them, so I couldn't remember how soon the bands started playing after their 7:00pm doors. Therefore, by the time I got checked in, into the venue, and acquired my first coupla beers, the opener Turnstile had already finished their set. Did you see them? How were they? Pictures of their set -- and all the bands (our photographer was on time) -- are in this post.
The Bouncing Souls, who are currently celebrating their 25th anniversary, took the stage next at about 8:30 PM, and by this point the room was absolutely cram-packed and a sweltering, hot, foggy, humid mess. I've been into the Bouncing Souls since about 1995 but they are one of those bands whose albums I never really listen to in my spare time because it's nothing compared to the live show. I know that sounds stupid, but whatever. They tore through what felt like a somewhat extended setlist that had the crowd in a frenzy. Almost everyone in the room knew the words to all the songs so there was plenty of crowd participation, fist-pumping, and bro-y fellowship. Pits these days are simply pedestrian compared to how they used to be, but last night things definitely got a little bonkers throughout the Souls' set which was pretty awesome. Good to see people still have it in them to pummel the shit out of each other now and then in the name of hardcore.
Many, many, many, many beers and about an additional 20 degrees later, it was time for my main reason for being there: NYHC legends the Gorilla Biscuits. I got into the Biscuits in about 1993, but by that point they had since disbanded. My first attempt to see them live was when CBGB was about to close its doors for good. I waited in line for several hours, got completely drenched during what felt like a passing hurricane, yet never ended up getting into the show. I FINALLY had my chance to see them when they played BB Kings on September 2, 2006 and that show was so insane and kicked so much ass that I almost threw up. So last night was only my second time seeing them, and holy shitballs did they deliver. Their discography isn't that huge, so it's safe to say that they practically played everything last night (setlist below). "High Hopes," "No Reason Why," "Hold Your Ground," and "Start Today" were among the gems they unleashed on us. They even played a blistering rendition of "Do Something" which is from frontman Civ's other band Civ. A highlight of the evening for many people (except for me because shit like this doesn't really impress me) was when the Biscuits were joined by Judge frontman Mike Judge for a fantastic rendition of "New York Crew" (videos of that are below). Sick of it All front man Lou Koeller was seen watching the show from the audience and I hoped he'd hop up there for a song as well, but that didn't happen. The Gorilla Biscuits sounded absolutely incredible and I really think the world would be a better place if they took the time to tour a little more often. It really is a sight to behold.
And another takeaway from the evening is that, quite simply, Walter Schreifels is the man. I am speaking very generally here, but a lot of these old school hardcore guys never outgrew their safety-in-numbers, goonish, thuggish, and macho "crew" tough-guy ape mentality. And as they get older, it just looks so pathetic to me. After the Biscuits, Walter went on to amass a really eclectic CV of musical projects; from the post-hardcore icons Quicksand, to the more Brit-rock influenced Walking Concert, to his solo works, to post-hardcore outfit Rival Schools... the dude grew up, branched out. To see him step back into his hardcore roots, with his long hair and his lack of (visible) tattoos, and absolutely own it... that rules man.
More pictures from last night's mayhem, plus video and Gorilla Biscuits' setlist, below...

---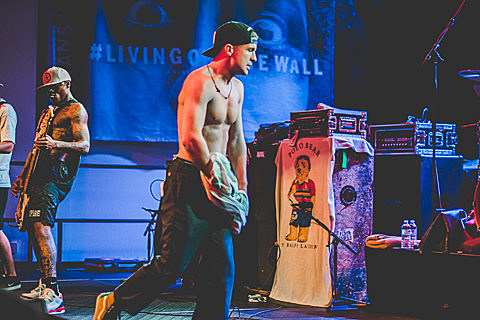 SETLIST: Gorilla Biscuits @ House of Vans 7/10/2014
New Direction
Stand Still
Degradation
Things We Say
High Hopes
Good Intentions
Big Mouth
No Reason Why
Forgotten
Sitting 'round at Home
Hold Your Ground
Two Sides
Slut
Gorilla Biscuits
Time Flies
Do Something (CIV)
Good Guys (Don't Wear White) (The Standells)
Competition
Cats and Dogs
Glue
Start Today