Gorilla Biscuits & Agnostic Front playing B&B Ball, Rival Schools kicking off tour (win vinyl & a lithograph)
Gorilla Biscuits at CBGB 2006 (more)

Gorilla Biscuits will return from the dead to play the annual Black & Blue Bowl (previously the Superbowl of Hardcore) on May 28th at Webster Hall alongside Agnostic Front (playing a special set), Terror, Antidote, Absolution, Down to Nothing, Maximum Penalty, No Turning Back, Backtrack, Take Offense, Bottom Out, and a secret guest. Tickets will be on sale soon on PitchforkNY.com, and at places like Lotus Tattoo in Sayville (Civ's tattoo shop), NYHC tattoos (Vinnie Stigma and Jimmy Gestapo's shop), Generation Records, and maybe other spots. There will also be some tickets saved to sell at the door, though the show will sell out.
Meanwhile, Walter Schriefels' more current project Rival Schools are readying the release of their new LP Pedals (out 3/8 on Photo Finish/Atlantic Records). The band begins a stint of dates in Chicago tonight (3/2) that include a record release party at Santos Party House on March 8th. Tickets are still on sale.
Want a a 180 gram vinyl copy of Pedals and a 24"x36" Pedals lithograph signed by Ian, Walter, Sam and Cache? Details on how to win all of that and a picture of it, plus two new Rival Schools videos, all tour dates and more, below...

--
Gorilla Biscuits - New Direction - CBGB's - 2006

RIVAL SCHOOLS- Wring It Out [OFFICIAL MUSIC VIDEO]

RIVAL SCHOOLS - Shot After Shot [OFFICIAL MUSIC VIDEO]

RIVAL SCHOOLS - 2011 TOUR DATES
03/02 CHICAGO, IL Lincoln Hall
03/05 BOSTON, MA Brighton Music Hall
03/06 WASHINGTON, DC Rock 'n Roll Hotel
03/07 PHILADELPHIA, PA Johnny Brenda's
03/08 NEW YORK, NY Santos Party House
03/10 NEW BRUNSWICK, NJ Court Tavern
05/27-30 George, Washington Sasquatch Festival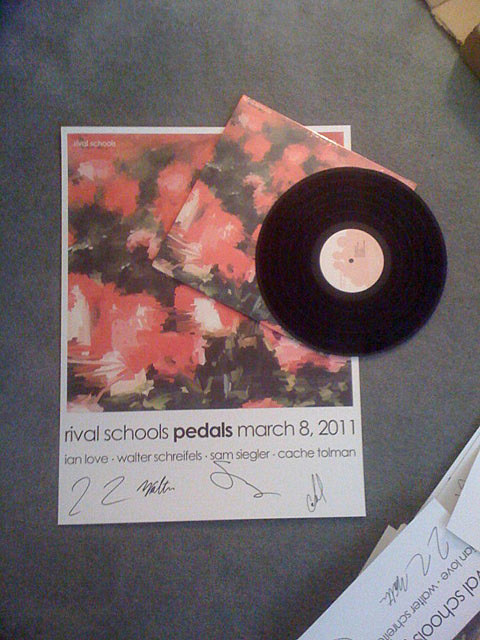 To win the vinyl and the signed lithograph, e-mail BVCONTESTS@HOTMAIL.COM (subject: Rival Schools). Include your first and last name in the email. A winner will chosen at random and contacted with more details. Your information will not be shared or used for any evil purposes. Good luck!