Governors Ball day 2 in pics (part 2): Guns N' Roses, Animal Collective, Cut Copy, Fucked Up & more
Fucked Up / Guns N Roses / Azealia Banks

We just posted pictures of day 2 (6/8) of NYC festival Governors Ball, which went down on Randall's Island this weekend, and here's more in this post. This time, we've got shots of Guns N' Roses, Animal Collective (who rival Kanye West for best light show of the festival), Cut Copy, Fucked Up and more.
Fucked Up's set was one of the craziest at the festival. Damien performed in the crowd and on the barrier as usual, but due to Friday's weather, this was by far the messiest I've ever seen it get. He was covered in mud, sweat, and beer by song 2 and so was a huge chunk of the crowd, who didn't let the swampy ground stop them from breaking out into a mosh pit. The set included the usual live favorites, "Son The Father," "Turn The Season, "I Hate Summer," etc, a rant about marijuana, and a tons of comments about how grateful they were for their fans. One of the best Fucked Up shows I've seen yet.
Cut Copy debuted a new song, "Explorers," earlier this week on tour (via Consequence of Sound). You can watch a video of that below.
Pictures of day 1 are HERE and HERE. More day 2 pictures are HERE. Videos and setlist of Kanye's day 3 set are HERE, and still more coverage is on the way. Even more pictures of day 2 below...

---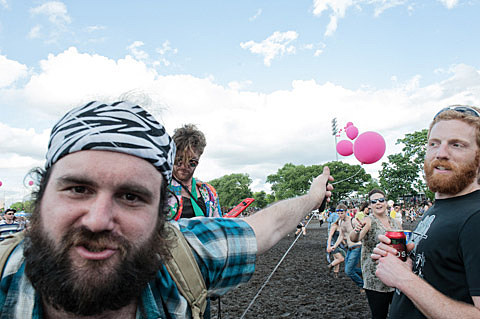 --
Cut Copy - "Explorers" at Governors Ball 2013