Governors Ball safer thanks to Electric Zoo, potentially dryer this year ++ more we learned via their Reddit AMA
Governors Ball (more by Dana (distortion) Yavin)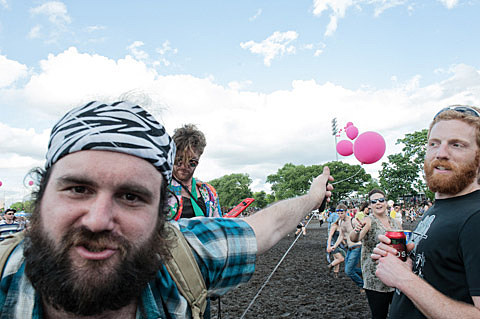 The promoters and producers of NYC festival Governors Ball chatted with Reddit users yesterday. People could ask anything and everything, and they answered as best they could.
Did the drug related deaths at Electric Zoo affect their festival which also takes place on Randall's Island?

The tragic events that occurred at Electric Zoo have lead to new protocols and additional oversight from the City of NYC and the Parks department. More city agencies (and more folks from each agency) are involved in our planning meetings, and we are required to do many additional things, mostly safety related. That being said, the city has been a pleasure to deal with and they have been very professional and practical about things. Safety is their number 1 priority, and we feel the same way, so our interests are aligned there. - T
What about all that rain and mud last year?

When we first heard about Tropical Storm Andrea it was 8 days out from the first day of the fest. By that time we have a Meterologist on call 24/7 to give us updates on the storms track, it's potential impact, etc. and we used that data to prep the site as much as we could for the coming rain. Unfortunately everything we did to prep the grounds was entirely negated by the massive amounts of rain we received. It was the most rainfall NYC has gotten in a 36 hour period EVER. That being said, during our repairs we did add in a new drainage line to help deal with rainfall, and we have had many convos with all city departments about how to address expected rainfall in the safest and best way possible. We have a new Weather plan which the City of NY have helped with, and we are better suited to deal with rain in 2014. That being said, and just being totally honest here, if we get 6 inches of rain in 36 hours again it will be another crazy year. However, let's think positive - it's gonna be beautiful and sunny and awesome! - T
What day are vampire weekend and disclosure playing??

Bold question. VW on Sunday. Disclosure on Saturday. -YR
Any after-shows?

TONS! And they're gonna rule. Info coming soon! -JW
How did they land the Strokes?

We have tried to book The Strokes every single year that Gov Ball has existed. They essentially have had an open invite to play when they wanted. We got a call from their agent at the very last minute, saying that they wanted to reunite and play at the festival. Dream come true for us. We're New York City kids, and they are the greatest NYC rock band of our generation. BOOM -JW
Read much more at Reddit. Check out the whole 2014 lineup and get tickets too.