'Gowanus Idol' @ The Bell House! (Eugene Mirman Comedy Fest Night 1…. IN PICS) — Bridget Everett, Dave Hill, Jon Glaser & more
Dave Hill, Eugene Mirman, Amy Schumer, Bridget Everett,

The 7th Annual Eugene Mirman Comedy Festival began last night at the Bell House with a singing competition for comedians dubbed Gowanus Idol judged by festival founder Eugene Mirman along with Amy Schumer, NPR's This American Life host Ira Glass, and comedian Jon Glaser as Derrick Brown's dad. He took over as judge when Amy had to leave.
Spoiler: Bridget Everett won the competition. Catch her show at Joe's Pub called ROCK BOTTOM, which we saw last week. It's been extended until October 16th.
Pictures from the Bell House continue below...

Hosts Kevin Townley and Elna Baker - "Be My Baby"
the judges for Gowanus Idol - Eugene Mirman, Amy Schumer, and Ira Glass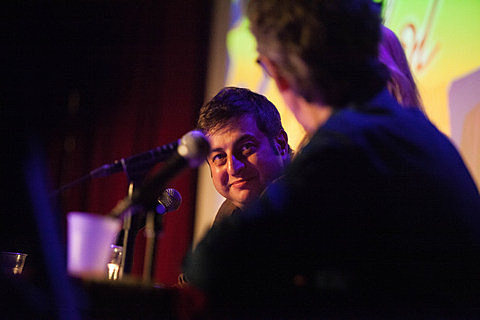 Eliot Glazer - "I Got My Mind Set on You"
Carolyn Castiglia - "Total Eclipse of the Heart"
Joseph Keckler - Shroom Trip Opera <iframe width="480" height="270" src="//www.youtube.com/embed/Vr2D63oj8Uo" frameborder="0" allowfullscreen></iframe>
Bobby Tisdale and the Not Bads
Derrick Brownand Amber Tamblyn - "Drops of Jupiter" [Amber]
Jon Glaser - Derrick Brown's dad
Jordan Carlos - Beast of Burden
Jena Friedman - "Dancer in the Dark"
Dave Hill - "Sexual Healing"
Bridget Everett - winner of Gowanus Idol