Grace Potter & the Nocturnals – 2009 tour dates (Terminal 5)
Grace Potter & The Nocturnals @ Prospect Park in August (more by Chris La Putt)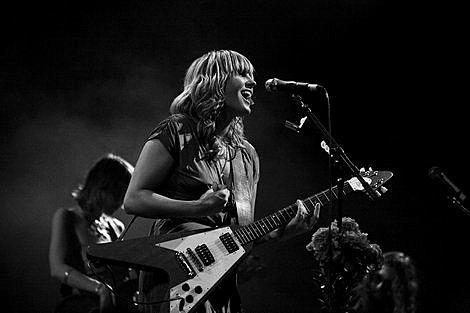 Weekly Davespeak: I understand you have another album planned with T-Bone [Burnett] this year..

Grace Potter: Actually, we've already finished the record. We were in L.A. for a little under two months. We recorded the entire album in a very amount of time. It is coming out in October.
That T-Bone Burnett-produced album, Medicine, is set for an October 27th release on Hollywood Records.
The band will be on tour with Brett Dennen this fall. That jaunt includes a November 20th show at Terminal 5. Tickets for the whole tour are on presale now. Tickets for the NY show are also on AmEx presale. General sale starts September 11th at noon.
The band has post-tour plans for a four-night New Years Eve run in their homestate of Vermont, a January gig at Levon Helm's Midnight Ramble in Woodstock, and a show after that in Jamaica (not Queens) with Gov't Mule (Grace is very popular in the jam band scene). All upcoming tour dates are below...

Grace Potter & The Nocturnals - 2009 Tour Dates
Sep 12 Pines Theatre - Soulive Royal Family Get Down w/ Soulive and John Scofield Florence, Massachusetts
Oct 23 Greenfield Amphitheatre - Live At The Lake Wilmington, North Carolina
Oct 24 Hancock & Wayne Streets - Deep Roots Festival Milledgeville, Georgia
Nov 13 Cannery Ballroom * Nashville, Tennessee
Nov 14 Tabernacle * Atlanta, Georgia
Nov 16 Rams Head Live * Baltimore, Maryland
Nov 17 930 Club * Washington, District of Columbia
Nov 19 House Of Blues * Boston, Massachusetts
Nov 20 Terminal 5 * New York, New York
Nov 21 Trocadero * Philadelphia, Pennsylvania
Nov 23 Guvernment * Toronto, Ontario
Nov 24 St. Andrews Hall * Detroit, Michigan
Nov 25 House Of Blues Cleveland * Cleveland, Ohio
Nov 27 Pantages Theatre * Minneapolis, Minnesota
Nov 28 House Of Blues * Chicago, Illinois
Nov 30 Turner Hall Ballroom * Milwaukee, Wisconsin
Dec 01 Peoples Court * Des Moines, Iowa
Dec 03 Ogden Theatre * Denver, Colorado
Dec 05 Crystal Ballroom * Portland, Oregon
Dec 06 Moore Theater * Seattle, Washington
Dec 07 Commodore Ballroom * Vancouver, British Columbia
Dec 10 House of Blues San Diego * San Diego, California
Dec 11 Marquee Theatre * Tempe, Arizona
Dec 12 Wiltern Theatre * Los Angeles, California
Dec 26 Higher Ground Burlington, VT
Dec 27 Higher Ground Burlington, VT
Dec 28 Higher Ground Burlington, VT
Dec 31 Higher Ground Burlington, VT
Jan 09 Levon Helm's Midnight Ramble Woodstock, New York
Jan 15 Grand Lido Negril Resort Negril, Jamaica w/ Gov't Mule
* w/ Brett Dennen