Graveyard have a new album and tour (dates, video)
Gregory R. Cristman
Graveyard at Bowery Ballroom in January, 2012 (more by Greg Cristman)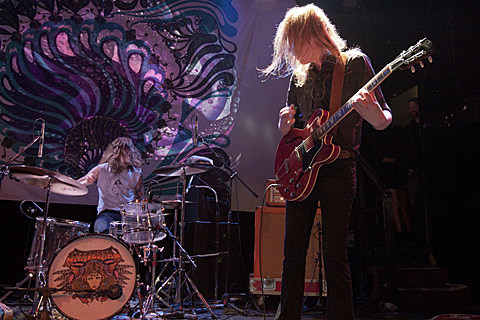 Swedish riffers Graveyard put out their new record, Lights Out, in Europe last week (10/26) and they'll release it in North America on November 6 via Nuclear Blast. You can check out the video for the album's single, "Endless NIght," and stream another album track, "Goliath," below.
Graveyard will be heading over to North America in 2013 to support the record and while they're here they'll play NYC on January 25 at Bowery Ballroom and January 27 at Music Hall of Williamsburg. Tickets for both shows just went on AmEx presale today (10/31), with a general on-sale starting Friday (11/2) at noon. No other dates have been announced as of this post, but if the band are coming over from Sweden, it's likely that we can expect a full tour.
This tour will also likely not feature bassist Rikard Edlund, who just announced on Monday (10/29) that he's taking a break from touring. The band write:
It's not only rock 'n' roll.

Sometimes in life you have to make decisions that are neither simple or easy to make. Graveyard have - after a time filled with difficulties and a search for solutions - been forced to make such a decision. Due to personal problems with addiction, it has come to the point where Rikard, to get the proper help, will have to take a break from touring with the band. Rikard is without a doubt still a member of Graveyard, but as things are at the moment it just doesn't work and something has to be done. The other members give Rikard their full support and the time off needed to try to beat this.

How this will affect the band - it is agreed upon by all four members that the show will go on and to do so the band will tour with a stand-in bassplayer.

This has been a far from easy decision to make and the timing isn't the best. But Graveyard as a band has it's mind set on being around for a long time to come. And looking at it from that perspective and Rikards personal health this is the only option. This is all the band have got to say about this somewhat personal matter and we'll give the final words to Rikard himself:

"After living the hard life for most of my life. It has come to the point that I have to take a break from playing the music that I love."
Best of luck to Rikard in a successful recovery.
Video, song streams, and a list of all currently known dates below.

---
Graveyard - "Endless Night" Official Video

Graveyard - "Endless Night" and "Goliath"

Graveyard -- 2012/2013 Tour Dates
Nov 02 Aveny Sundsvall, Sweden
Nov 03 Katalin And All That Jazz Uppsala, Sweden
Nov 10 Pustervik Göteborg, Sweden
Nov 11 Pustervik Göteborg, Sweden
Nov 15 KB Malmö, Sweden
Nov 16 Dynamo Norrköping, Sweden
Nov 17 Folkets Park Huskvarna, Sweden
Nov 23 Debaser Medis Stockholm, Sweden
Nov 29 Markthalle Hamburg Hamburg, Germany
Nov 30 Muziekcentrum Trix Antwerp, Belgium
Dec 02 Fleece Bristol, United Kingdom
Dec 04 O2 ABC 2 Glasgow, United Kingdom
Dec 05 Ruby Lounge Manchester, United Kingdom
Dec 06 O2 Academy Islington London, United Kingdom
Dec 07 Haunt Brighton, United Kingdom
Dec 08 Speedfest Eindhoven, Netherlands
Dec 09 Melkweg Amsterdam, Netherlands
Dec 11 Mascotte Zurich, Switzerland
Dec 14 Backstage Munich, Germany
Dec 15 Strasse E Dresden, Germany
Dec 16 Batschkapp Frankfurt Frankfurt Am Main, Germany
Dec 17 Vera Groningen, Netherlands
Dec 18 Sensor Club Cologne, Germany
Dec 19 C-Club Berlin, Germany
Jan 25 Bowery Ballroom New York, NY
Jan 27 Music Hall of Williamsburg Brooklyn, NY
Mar 07 Amager Bio Sundbyøster, Denmark