Great Lake Swimmers, Ava Luna, Serena Williams & others played the U.S. Open (pics)
photos by Diana Wong
Great Lake Swimmers @ the U.S. Open

"Serena Williams failed to put a storybook finish on her injury comeback and instead decided on Sunday to once again turn center court at the U.S. Open into a vulgar outlet for her frustrations.
Williams, whose outburst in the U.S. Open semi-final two years ago cost her the match, is praised for her power-hitting and fighting qualities on the court but has also come to be reviled for a lack of self control toward officials.
Her latest incident, which came during a 6-2 6-3 loss to Australian Sam Stosur in the final, featured repeated outbursts toward a chair umpire who reversed a point against her for shouting "Come On!" while the ball was in play.
"If you ever see me walking down the hall, look the other way because you're out of control. You're out of control. You're a hater and unattractive inside, the 29-year-old told the chair umpire during a changeover. "Code violation for this? I expressed myself, we're in America last time I checked. Don't look at me. Don't look my way."" [Reuters]
Wye Oak kicked off a week+ of musical performances at the US Open that included outdoor sets by Great Lake Swimmers (who also played City Winery last week), Ava Luna (who are heading out on tour with Toro y Moi), Miniature Tigers and others. You saw pictures of Wye Oak already. Pictures from the rest of the week continue below...


Miniature Tigers 9/2
Ava Luna 9/3
Great Lake Swimmers 9/4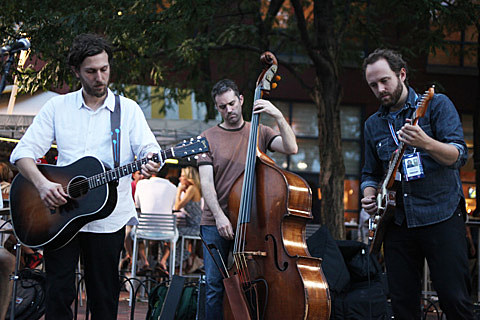 Marcellus Hall and the Hostages 9/5
The Aviation Orange [Cancelled due to weather] 9/6
Pretty Good Dance Moves 9/8